Overseas Voting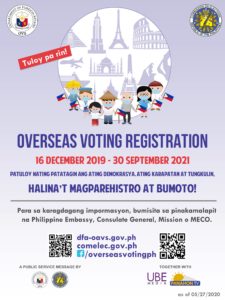 By virtue of Republic Act No. 9189, as amended by Republic Act  No. 10590, all Filipino citizens, who are at least 18 years old by 9 May 2022, and are  not disqualified by law, may register as an Overseas Voter for purposes of participating in the May 2022 Presidential Elections.
Registration Period
The registration period for the May 2022 Presidential Elections is from 16 December 2019 to 30 September 2021.  During this time, the Philippine Consulate General in Vancouver will accept applications for registration/certification filed either at the Consulate or at any of its consular outreach missions conducted during this period.
Requests for Transfer of Registration Records will also be entertained at this time.
Qualifications of Registrants
Filipino citizens in British Columbia, Yukon and the Northwest Territories

At least 18 years old on or before 9 May 2022

Not otherwise disqualified by law, such as in one of the following instances:
Has been sentenced to prison for more than one (1) year

Has been convicted of crimes such as rebellion, insurrection, violation of the firearms laws, or any crime against national security

Has been declared insane or incompetent
Any person disqualified to register under (a) and (b) above shall automatically reacquire the right to register and vote upon expiration of five (5) years after service of sentence.
Requirements for Registering
All applicants for Overseas Voting must appear in person for biometrics capturing at the Philippine Consulate General in Vancouver or at any of its consular outreach missions within British Columbia, Yukon or the Northwest Territories.
Applicants must bring with them any proof of Philippine citizenship (original and photocopy),
Valid Philippine passport

Philippine Birth Certificate

Dual Citizenship Identification Certificate (for dual citizens)

Seaman's Book (for seafarers)
REGISTRATION FOR OVERSEAS VOTING FOR THE 2022 PRESIDENTIAL ELECTIONS
The Philippine Consulate General in Vancouver is pleased to announce that Filipinos in British Columbia, the Yukon and the Northwest Territories may now fill out their Overseas Voter registration forms prior to coming to the Consulate, through an online facility called iRehistro ( https://irehistro.comelec.gov.ph/irehistro/ovf1 ).
The online system allows applicants to accomplish the forms in advance, leaving only the biometrics  (photograph, fingerprints and signature) to be taken at the Consulate during their visit, considerably shortening the registration process.  After filling out the form, applicants need only to print it out in legal-sized paper, including the QR code, and bring that to the designated encoder at the Consulate who will then take the applicants' biometrics.
Form
Date modified: October 5th, 2021
Consular Outreach
Fort St. John, British Columbia - Northern Grand Hotel 9830 – 100th Avenue, Fort St. John BC V1J 1Y5

Status: Booking now

Victoria, British Columbia - TBA

Status: pending
►

View All