March 03, 2023
VANCOUVER PCG HOLDS FIRST CONFERENCE FOR FILIPINO MIGRANT WORKERS AND INTERNATIONAL STUDENTS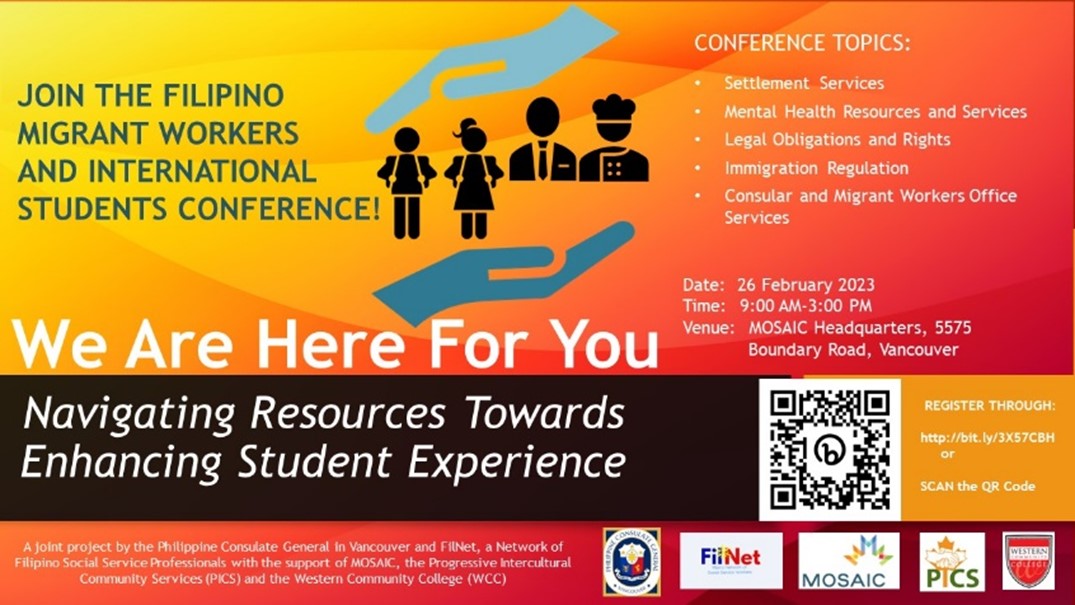 28 February 2023 - The Philippine Consulate General in Vancouver, in partnership with the FilNet, a network of Filipino social service professionals, successfully held a virtual conference for Filipino migrant workers and international students on 26 February 2023. With the theme, "Navigating Resources Towards Enhancing Student Experience," the Conference aimed to inform Filipino international students and migrant workers about the various settlement services and resources available to them, including managing settlement and integration challenges, their legal rights and obligations in British Columbia, the provisions of their immigration permit, as well as consular services and labor concerns.  The Conference was organized against a backdrop of a growing population of Filipino international students in Canada, with the Philippines being among the top 10 source countries of international students for B.C. in 2021, according to the BC Council for International Education.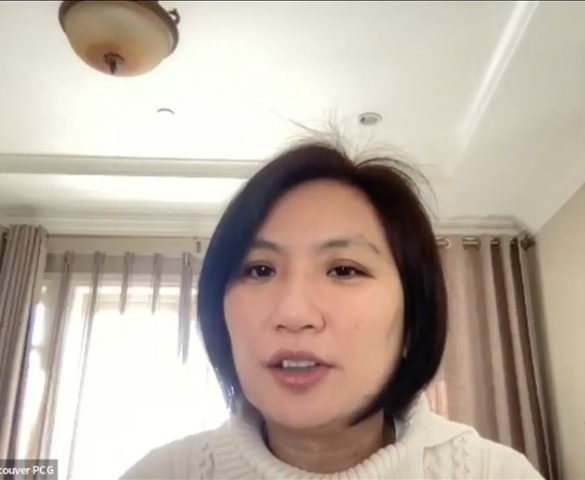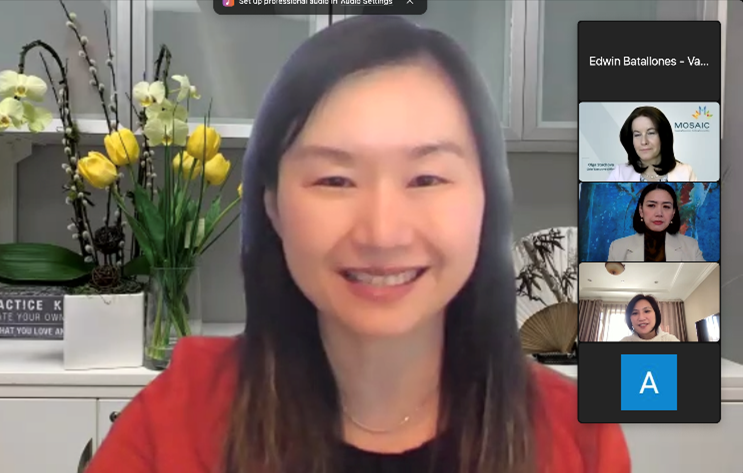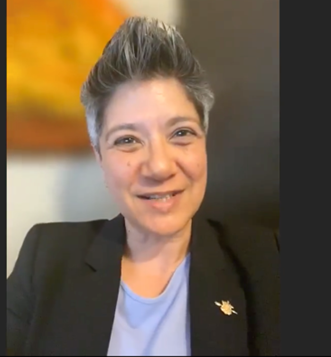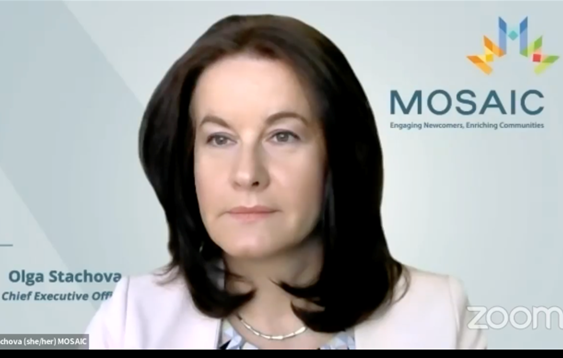 PHOTOS (clockwise from left) – Consul General Maria Andrelita Austria, BC Minister of Municipal Affairs Anne Kang, Member of the Legislative Assembly Mable Elmore, and MOSAIC CEO Olga Stachova
Initially organized as an in-person event at the MOSAIC headquarters, the Consulate General had to shift to a virtual platform (via zoom and Facebook livestreaming) at the last minute due to inclement weather and unsafe road conditions. There were at least 170 registrants to the event, which was also supported by the MOSAIC, a government-funded settlement and employment services organization, the Progressive Intercultural Community Services, a government-funded organization which provides various training services to migrant workers and international students, and the Western Community College, which offers government-funded programs for its international students, many of who are Filipinos.
The conference was opened by the CEO of MOSAIC, Ms. Olga Stachova, who underscored the importance of MOSAIC's services for immigrants, as well as its thrusts in providing more support for non-permanent residents, such as international students and migrant workers.  Minister Anne Kang of the BC Ministry of Municipal Affairs, in her keynote address, spoke of the significant impact of the Filipino community on the province's past, present and future, and how they made BC stronger through their skills, talents and contributions.  Fil-Canadian MLA Mable Elmore assured the participants that the government will continue the important work of protecting the rights and welfare of newcomers and encouraged them to keep advocating, in turn, for their concerns.  She cited, as an example of successful advocacy the BC government's commitment to build a Filipino cultural center and asked for the participants' support and involvement in the project.  And, Consul General Maria Andrelita Austria acknowledged the organizational partners, resource persons and facilitators who helped make the Conference happen.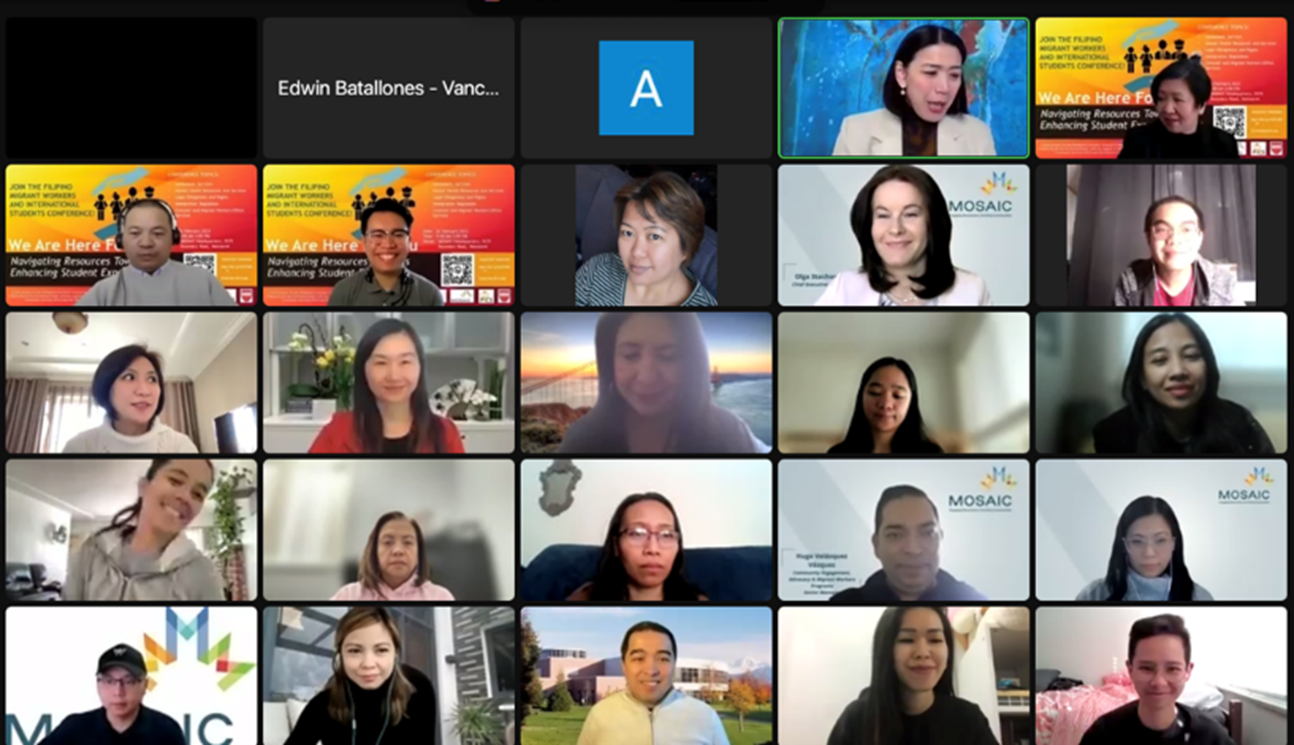 A panel of FilNet members composed of Marlyn Dadural, Adrian Bontuyan and Girlly Cumberland presented on their respective organizations' settlement and integration services.  Mental health clinician, Laarni Bernardo, followed with a discussion on mental health challenges and resources.  Atty. Melissa Briones of Northam Law Corporation spoke about the legal obligations and rights of international students and their working dependents while Darla Tomeldan and Noel Abrera, both Regulated Canadian Immigration Consultants, explained the provisions of the immigration permits issued to international students.  The attendees also received a briefing on Consular services, as well as updates on the services and programs of the Migrant Workers Office – Vancouver (formerly Philippine Overseas Labor Office) delivered by Consul Ericka Anna Abad and Labor Attaché Jainal Rasul, Jr., respectively.  The sessions were moderated by Mr. Stephen Andrada of FilNet and the conference program was hosted by Ms. Rhea Santos, a Filipino broadcast journalist working with the OMNI Filipino News in Vancouver and, herself, a former international student in B.C.  END
Community Events
No event found.