April 07, 2022
UNIVERSITY OF SANTO TOMAS DEAN OF COLLEGE OF NURSING MEETS WITH COUNTERPARTS IN BRITISH COLUMBIA

Prof.  Rowena  Lei Escolar-Chua, Dean of the UST College of Nursing (second from right) and Consul  General  Maria Andrelita  S.  Austria (rightmost) meet with Ms. Sharmen Lee, Dean  of  the  Faculty  of  Health,  Kwantlen  Polytechnic University  (second from left)  and  Ms. Herraj  Sandhu, KPU Graduate Nurse-Internationally Educated (GNIE) Program Chair.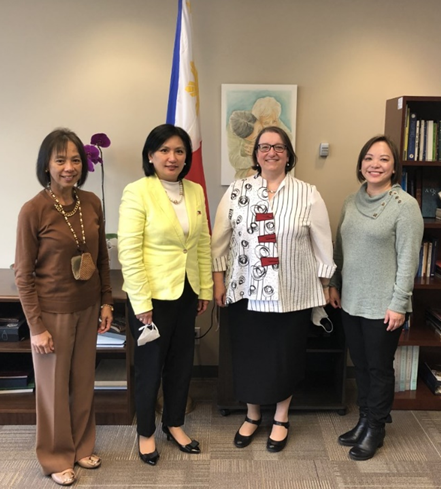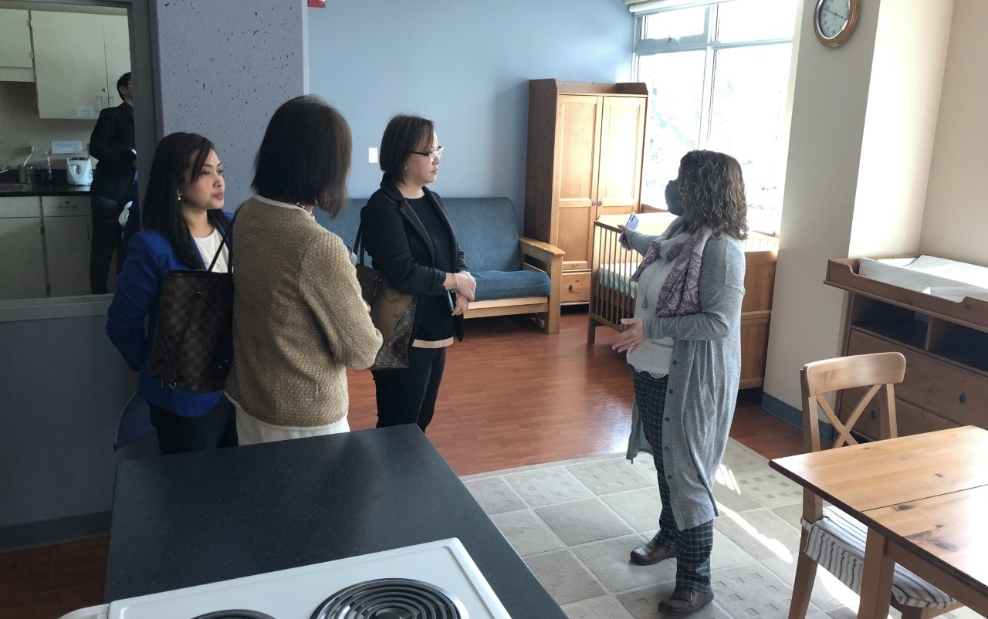 LEFT Photo – (L-R)   Deputy Consul General Arlene T. Magno, Consul General Austria, University  of  British  Columbia Director of School of Nursing, Dr. Elizabeth M. Saewyc, and Prof. Chua pose for a photo opportunity after meeting at the Consulate.  RIGHT Photo – Prof. Chua, DCG Magno and Consul Analyn D. Ratonel tour the simulation laboratory at the Douglas  College after meeting with the Dean of Health Sciences, Dr. Pamela Cawley, Associate Dean Edith Kirkpatrick, and BSN Director Anna Helewka.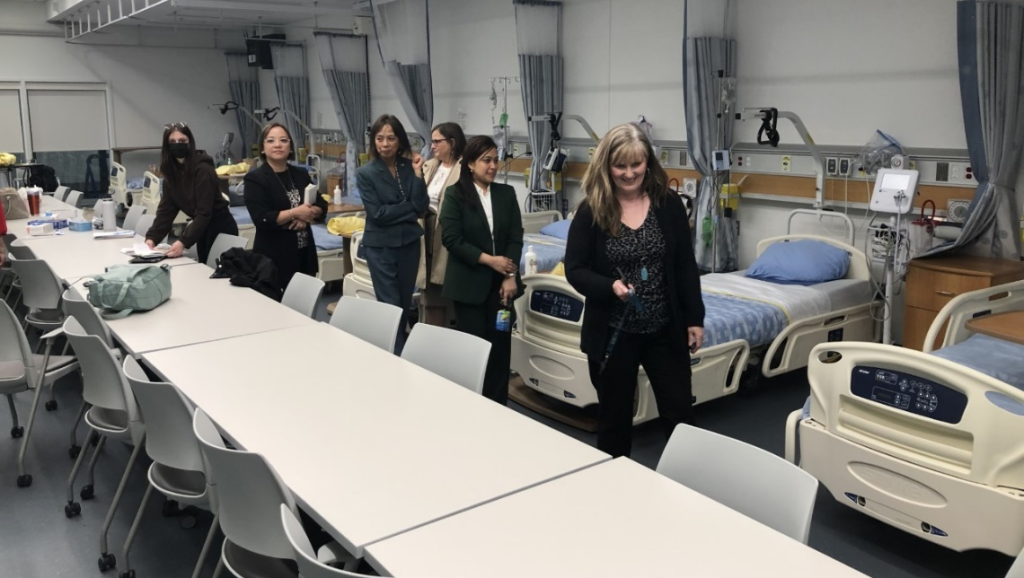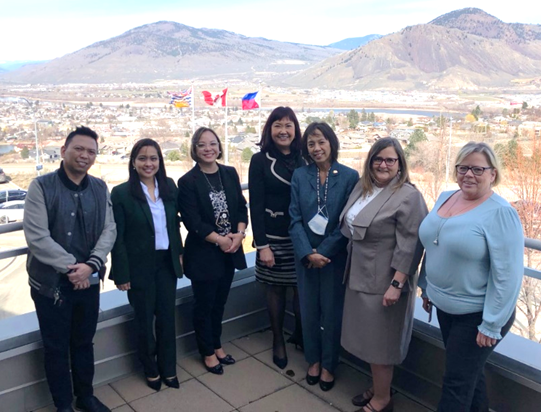 LEFT Photo – Prof. Chua and  the  Consulate team  tour the 10-bed  skills  laboratory at  the  Thompson  Rivers  University. RIGHT Photo - Prof.  Chua  poses   with  Ms.  Baihua Chadwick  (center), Vice  President  International, Ms.  Lori  de  Frias, Associate  Director,  International  Training,  TRU  World (2nd from right),  and  Ms.  Cindi  Thompson (rightmost),  Executive Assistant  to  the  Vice  President,  with  the Philippine  flag  flying  alongside  the  Canadian and British Columbia  flag in the background.
31 March 2022 – In line with the Credentials Recognition in Canada project by Philippine posts in Canada, the Philippine Consulate in General in Vancouver invited Professor Rowena Lei Escolar-Chua, Dean of the College of Nursing of the University of Santo Tomas to participate in the Nurses Convention organized by the Consulate on 25 March, and to meet with some of the educational institutions in British Columbia with accredited nursing programs.  The UST is one of the few Philippine Centers of Excellence in nursing and one of six that the Consulate reached out to.
During her visit in Vancouver, Dean Chua was able to meet with her counterparts and the heads of the BSN programs of the Kwantlen Polytechnic University, University of British Columbia, Douglas College, and Thompson Rivers University where she discussed ways through which the UST could help contribute to addressing the credentials recognition issue and nursing shortage in Canada, and explored possible cooperation on curriculum development, academic and faculty exchanges and research. The school officials were unanimous in expressing interest and willingness to collaborate and committed to continuing the dialogue with UST.  END
Community Events
No event found.
Consular Services Available at
Kelowna, British Columbia - TBA

Status: pending

Whitehorse, Yukon - TBA

Status: pending

Yellowknife, Northwest Territories - TBA

Status: pending

Fort St. John, British Columbia - TBA

Status: pending
▶

View All