May 12, 2023
Philippine Consulate in Vancouver hosts "An Evening with Chef TJ CONWI"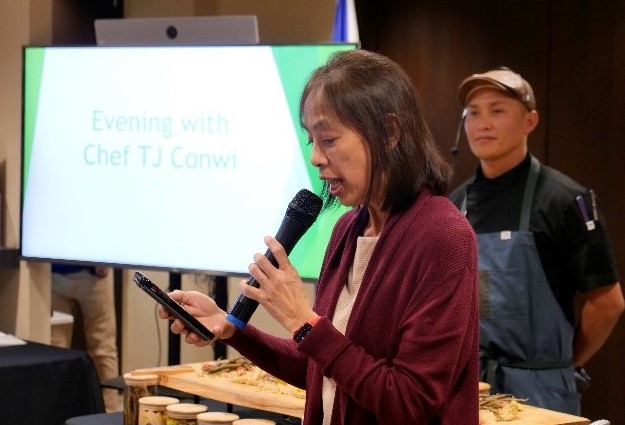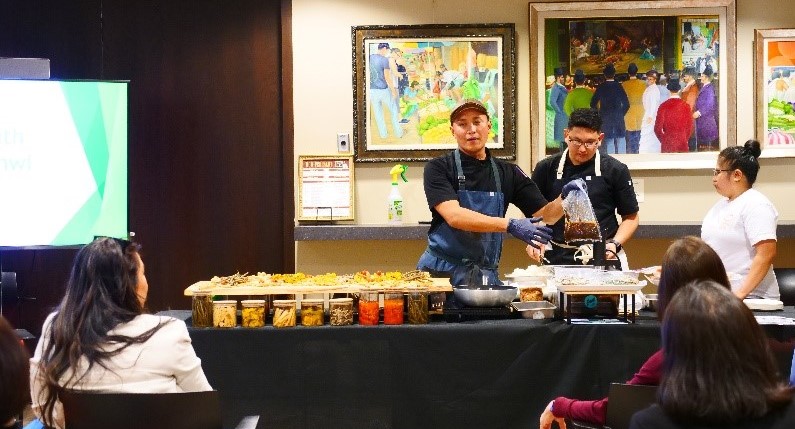 LEFT PHOTO – Consul General Arlene T. Magno introduces Chef TJ Conwi;  RIGHT PHOTO – Chef TJ presents a sample ready-to-eat pork adobo meal made out of surplus food.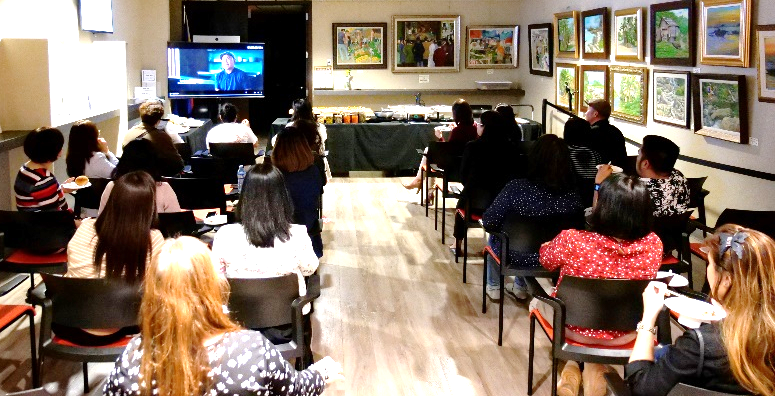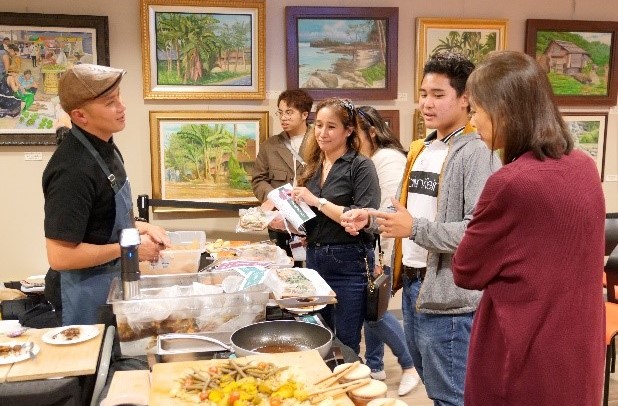 LEFT PHOTO – Attendees watch a documentary on Chef TJ's community meal program, "The Interceptors";  RIGHT PHOTO - Chef TJ engages members from the Filipino-Canadian business community about program.
05 May 2023 – The Philippine Consulate General in Vancouver hosted, on 28 April 2023, "An Evening with Chef TJ Conwi", which was organized to introduce Filipino-Canadian chef, TJ Conwi, and his community meal program to Filipino-Canadian businesses in Vancouver.  Initially started during the pandemic, as his way of helping mitigate the situation for his dishwashers and servers, his program subsequently extended to the less fortunate members of the Vancouver community, Filipinos included, through six (6) charitable institutions.  After two years, with the help of volunteer partners, Chef Conwi has prepared and served more than 300,000 meals made from surplus food obtained from restaurants and stores, in pursuit of his mission to help people and fight food wastage in Vancouver.
The evening program included a viewing of "The Interceptors," a documentary which highlighted the pressing concerns around Vancouver's food system, particularly the rising food insecurity, its root causes, and the rampant food waste happening across the supply chain. More importantly, the film included stories about Chef Conwi's Filipino heritage in Manila.  Guests then sampled his ready-to-eat pork adobo meal and vegetable platter made from surplus food.
In his remarks to the audience, Chef TJ spoke of his challenges, particularly those relating to the wages he needed to maintain the staff who cook and prepare the free meals.  Because he doesn't want to put an end to the program, he has been using his personal savings to support it so far but it has become increasingly more difficult and unsustainable for him.  Chef Conwi has resorted to selling delicious ready-to-eat meals, using some of the surplus ingredients, which he says will be out in the stores soon under the label "reroot".  Chef Conwi also provides catering and consulting services.
The event was attended by owners of Filipino-Canadian businesses, as well as Consulate personnel.  END
Community Events
No event found.