June 22, 2023
PCG Vancouver Organizes Mentor Session for Filipino International Students in Vancouver in Partnership with UPAABC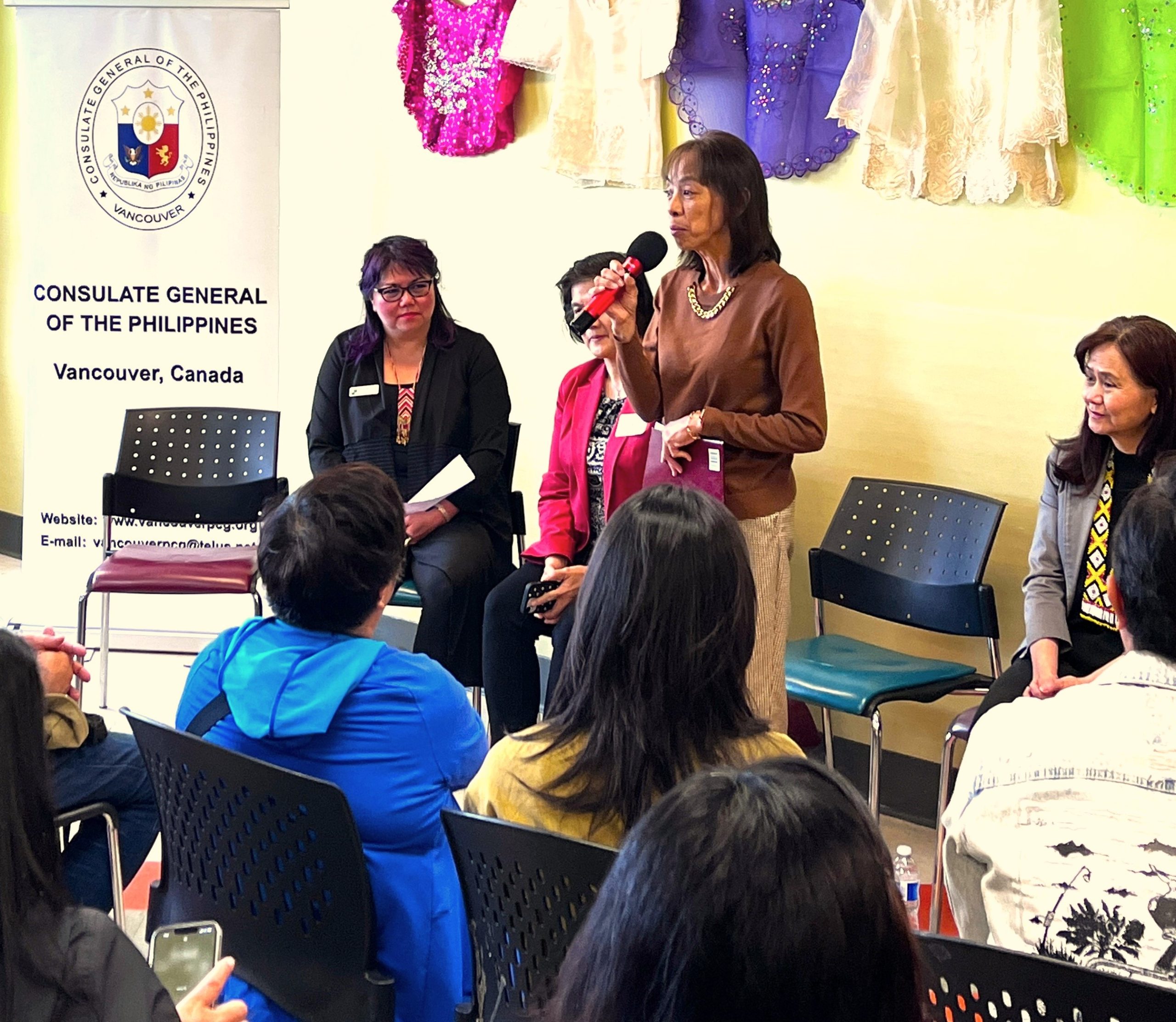 PHOTO:  Consul General Arlene T. Magno welcomes participants to the Mentor session, which she said was one topic of interest identified in a survey by attendees to the Conference for International Students and Migrant Workers held in February 2023. 
19 June 2023 – The Philippine Consulate General in Vancouver partnered with the University of the Philippines Alumni Association in British Columbia (UPAABC) in holding a mentorship session for Filipino international students and migrant workers in Metro Vancouver at the South Vancouver Neighbourhood House (SVNH) on 17 June 2023.  In her keynote remarks, Consul General Arlene T. Magno cited the exponential rise in the number of Filipinos coming to Canada to study, putting the Philippines among the top 10 source countries for international students in BC, as of 2021. Ms. Mimie Remie, SVNH Executive Director, welcomed the participants to the SVNH, a settlement organization which provides various services to immigrants, especially newcomers.
Entitled, "Employment Integration in BC through Industry Mentorship," the afternoon session highlighted the following five industries:  Settlement, Employment and Community Integration Services; Immigrant Entrepreneurship; Engineering and IT; Education; and Project Management and Financial Services.  More than 40 Filipino international students, at varying stages in their education, joined the program.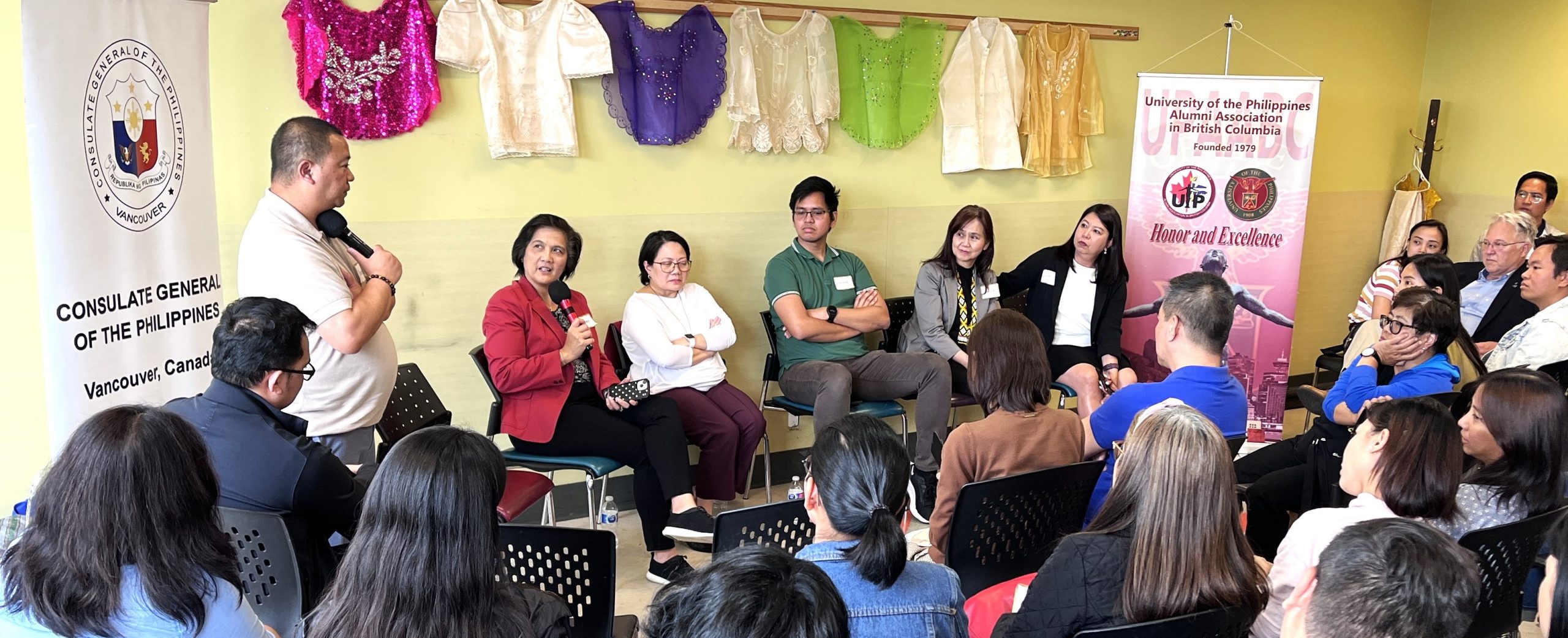 PHOTO: Mr. Stephen Andrada (standing) facilitates the discussions by the mentors, (L-R) Ms. Mary Tecson, Ms. Rhona Doria, Mr. Jasper Mallonga, Ms. Anita Aytona and Vicky Rubio Buechler, all members of the UPAABC.
The mentors, who were all members of the UPAABC and who came from different professional backgrounds, shared their respective journeys, from the time they arrived in the country to the different challenges they encountered in settling in, until they succeeded in their chosen field in Canada.  Ms. Mary Tecson, an accountant/auditor who works at the Langley Community Services Society, spoke about the settlement, employment and community integration services provided by settlement agencies.  Ms. Rhona Doria who runs a retail business selling Filipino fashion products from Iloilo shared her experience in starting her business, while Mr. Jasper Mallonga talked about the steps he took in getting his engineering designation in Canada and his current IT job.
Ms. Anita Aytona who teaches mathematics to Grade 12 students and has decades of teaching experience behind her shared how she was able to continue her passion for teaching in Canada.  The last panelist, Ms. Vicky Rubio Buechler shared her humble beginnings and challenges as a female and as an Asian project manager in a male-dominated company.  All mentors emphasized the importance of humility, hard work and perseverance, as well as the need to be open-minded because one may not necessarily end up in the job that he or she was trained for.  An open forum followed the presentations.

PHOTO:  A Filipino international student fields a question on the importance of professional designation at Q&A session
Mentoring was one of the topics of interest identified in a survey by participants to the Conference for International Students and Migrant Workers organized last February by the Consulate, in coordination with the FilNet, a network of Filipino social service professionals, and with the support of MOSAIC, a government-funded settlement and employment services organization, the Progressive Intercultural Community Services (PICS),  a government-funded organization which provides various training services to migrant workers and international students, and the Western Community College (WCC) .   Another popular topic was a job fair, which is the next event the Consulate will organize later this year.END
Community Events
No event found.
Consular Services Available at
Fort St. John, British Columbia - Northern Grand Hotel 9830 – 100th Avenue, Fort St. John BC V1J 1Y5

Status: Booking now

Victoria, British Columbia - TBA

Status: pending
▶

View All