June 22, 2022
Member of Parliament Parm Bains Visits Vancouver PCG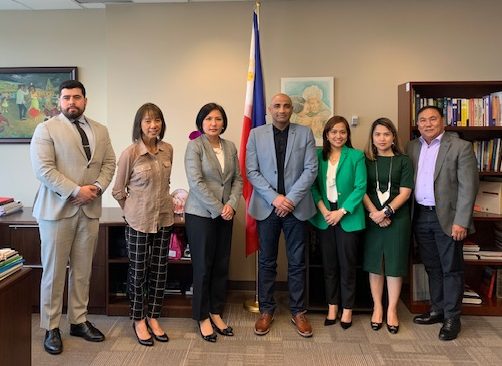 (L-R) Mr. Jose Villagra, Chief of Staff of MP Bains, Deputy Consul General Arlene Magno, Consul General Maria Andrelita Austria, Member of Parliament Parm Bains,  Consul Analyn Ratonel,  Consul Ericka Abad, and Mr. Rene Hipolito, Director-at-Large of MP Bains (Photo from Vancouver PCG)
20 June 2022 – Consul General Maria Andrelita Austria received Hon. Paramvir "Parm" Bains, Member of Parliament (Steveston—Richmond East), at the Consulate on 17 June 2022.  He was accompanied by his Chief of Staff, Mr. Jose Villagra, and his Director-at-Large, Mr. Rene Hipolito, president of EC Trading.
During the meeting, MP Bains briefed the Consulate on the economic developments in his riding in Richmond and spoke of the well-established Filipino community in his riding.  MP Bains also invited Consul General Austria to visit Richmond and tour some of the businesses there.
Meanwhile, Consul General Austria shared with MP Bains the initiatives of the Philippine Posts in Canada in securing the recognition of the academic credentials and overseas experience of Filipino professionals, particularly the nurses, who have migrated to Canada.  She also pointed to the marked increase in the number of Filipino international students in Canada of late.
MP Bains is a member of the Liberal Party of Canada who won in the 2021 Canadian federal election.  Prior to his political post, he was an instructor at the School of Business in Kwantlen Polytechnic University.  END
Community Events
No event found.
Consular Services Available at
Yellowknife, Northwest Territories - CHATEAU NOVA YELLOWKNIFE 4571 48 Street, Yellowknife, NT X1A 0E2

Status: Booking now

Fort St. John, British Columbia - TBA

Status: pending

Victoria, British Columbia - TBA

Status: pending
▶

View All