March 31, 2023
JOIN FREE WORSHOPS ON VISUAL MARKETING, VIDEOGRAPHY, PHOTOGRAPHY AND SEO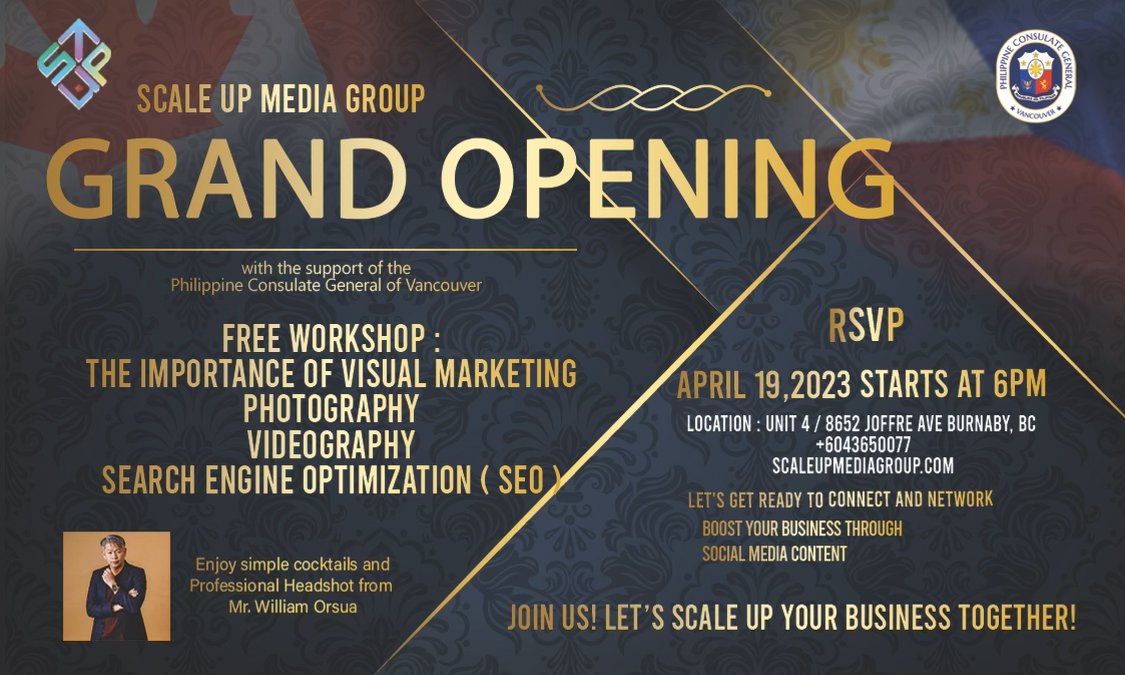 The Scale Up Media Group, in collaboration with the Philippine Consulate General in Vancouver and on the occasion of Scale Up Media Group's grand opening, is holding free workshops on visual marketing and the latest strategies on commercial and product photography, videography and search engine optimization (SEO).   
The free workshops are designed to provide you with knowledge on how to better market your brand and drive traffic to your website.  During the event, the company's committed team of professionals will be introduced.  There will also be photo booth and free headshots for business owners.   Attendees will also have the chance to bring home exciting giveaways from Scale Up Media Group.  
Scale Up Media Group is a company owned by Mr. William Orsua and is composed of young, ambitious professionals who are experts in modern marketing techniques and whose goal is to help businesses like yours scale up and grow by creating innovative and effective commercial photography and videography campaigns. 
The Consulate and Scale Up Media Group invites Filipino-Canadian business owners to 
this 
grand opening and take advantage of the free workshops, which will 
take place 
on 
19 April 2023, 6:00 PM
, at Unit 4, 8652 Joffre Avenue, Burnaby, BC. 
Community Events
No event found.
Consular Services Available at
Kelowna, British Columbia - TBA

Status: pending

Whitehorse, Yukon - TBA

Status: pending

Yellowknife, Northwest Territories - TBA

Status: pending

Fort St. John, British Columbia - TBA

Status: pending
▶

View All