May 08, 2023
Filipino Artist Featured at the Vancouver International Art Fair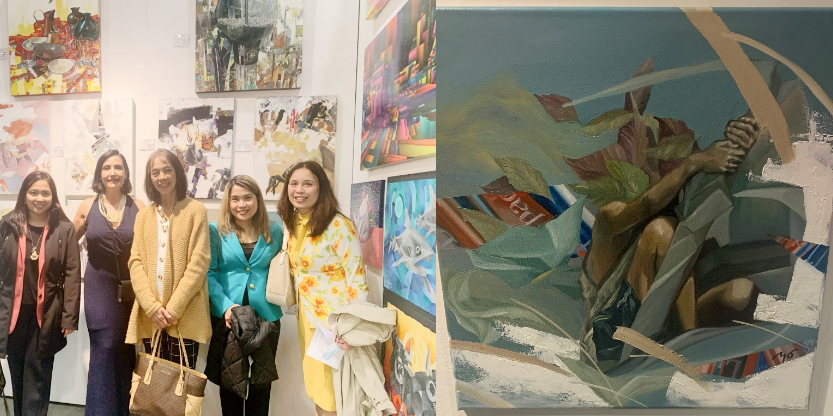 (Left photo) L-R: Consul Analyn Ratonel, Ms. Adriana Cisneros of Art Legacy International, Consul General Arlene T. Magno, Consul Ericka Anna Abad and Cultural Officer Ma. Lyra Ocampo at the Vancouver International Art Fair on 04 May 2023.  (Right photo) Mark Ocampo's artwork entitled "Unos" shows the resiliency and coping strategies of Filipinos amidst disasters and difficulties.
VANCOUVER, 04 May 2023 – The artworks of Filipino artist Mark Ocampo were featured at the 7th Edition of Vancouver International Art Fair held from 04 to 07 May 2023 at Vancouver Convention Center, through the US-based Art Legacy International Gallery.
The Philippine Consulate General in Vancouver, led by Consul General Arlene T. Magno, visited the booth of Art Legacy on 04 May 2023.  Ms. Adriana Cisneros, founder and director of Art Legacy, welcomed the group and explained the meaning of Ocampo's artworks.
Mark Ocampo, is a Kelowna-based artist and illustrator, who has been refining his drawing and painting skills since 2006. Born in Manila, Philippines, where he studied interior design, Ocampo's previous body of work consists of decorative and functional art. As a design consultant, he has rendered interior illustrations for clients, business owners and interior design companies both in Philippines and Canada.  As a muralist, Ocampo is commissioned to paint for schools, restaurants, lifestyle shops and residential properties.
The Vancouver International Art Fair, locally known as Art Vancouver, founded in 2015 by the Vancouver Visual Art Foundation (VVAF), aims to connect international exhibitors under one roof by featuring an array of reputable galleries and artists from Canada and around the world. END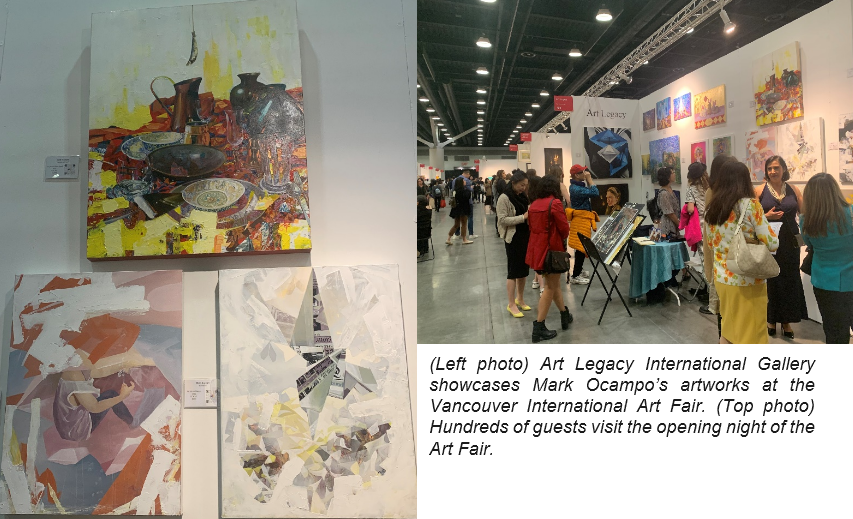 Community Events
No event found.
Consular Services Available at
Yellowknife, Northwest Territories - CHATEAU NOVA YELLOWKNIFE 4571 48 Street, Yellowknife, NT X1A 0E2

Status: Booking now

Fort St. John, British Columbia - TBA

Status: pending

Victoria, British Columbia - TBA

Status: pending
▶

View All