September 15, 2023
Consul General Magno Joins the 2023 End of Summer Festival in Burnaby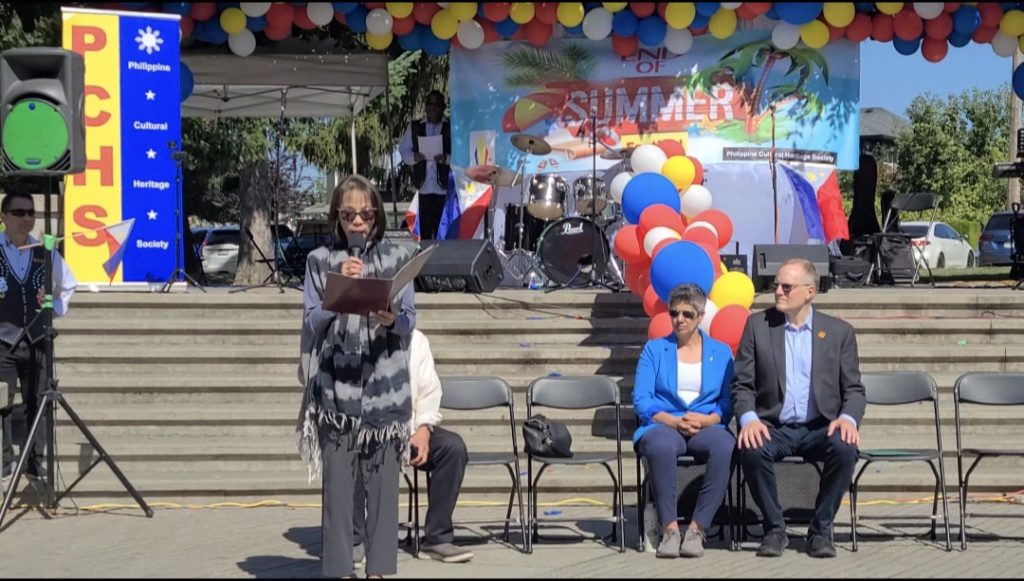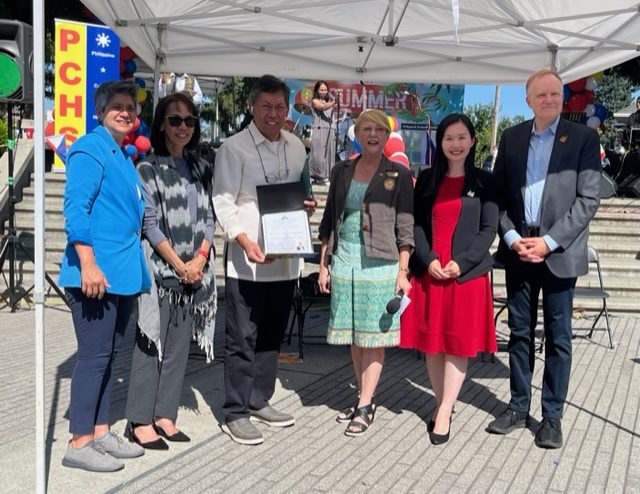 (Left photo) Consul General Arlene Magno delivers her opening remarks at the End of Summer Festival.  (Photo by Ms. Lina Vargas) (Right photo) L-R: MLA Mable Elmore, Consul General Arlene Magno, Philippine Cultural Heritage Festival President Rey Calinisan, MP Janet Routledge, MP Anne Kang, and MP Peter Julian pose after the Festival's opening ceremony. (Photo by Vancouver PCG)
9 September 2023, Burnaby - Consul General Arlene T. Magno joined the Filipino Community at the 2023 End of Summer Festival held at the Edmonds Community Centre and Park, Burnaby, BC.
The event opened with short messages from various officials and guests.  Consul General Magno congratulated the organizers and volunteers who worked tirelessly to bring a taste of the Philippines to Canada and highlighted two important aspects of the Filipino culture that are ever-present in Philippine festivals, music and food.
Member of Parliament New Westminster-Burnaby Peter Julian presented to the Philippine Cultural Heritage Festival (PCHF) President Rey Calinisan the official greetings from the BC Government.
The festival, organized by the PCHF, showcased traditional dances and cultural performances by various local artists and Filipino community groups, as well as Filipino cuisine, delicacies and artisan products.  END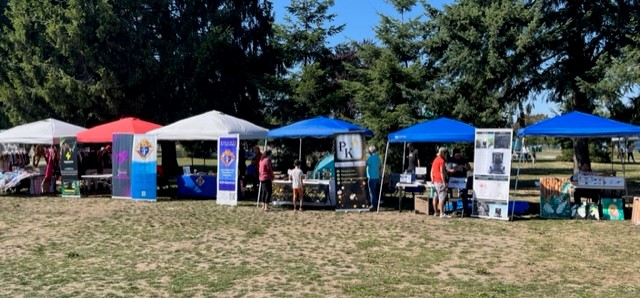 (Top photo) Filipino vendors selling artisan products at the End of Summer Festival event in Burnaby. (Photo by Vancouver PCG)
Community Events
No event found.
Consular Services Available at
Fort St. John, British Columbia - Northern Grand Hotel 9830 – 100th Avenue, Fort St. John BC V1J 1Y5

Status: Booking now

Victoria, British Columbia - TBA

Status: pending
▶

View All