June 08, 2021
ADVISORY NO. 21-2021: Consular Outreach Mission in Victoria, BC
BAYANIHAN COMMUNITY CENTRE

1709 Blanshard St. Victoria,

British Columbia V8W 2J8

25 June 2021

9:00 am – 6:00 pm

26 June 2021

9:00 am – 6:00 pm
IMPORTANT REMINDERS
ALL CONSULAR SERVICES THAT NEED TO BE APPLIED IN PERSON, INCLUDING THOSE FOR SENIORS AND MINORS, WILL BE BY APPOINTMENT
BOOK YOUR APPOINTMENT THRU THE LINKS FOUND BELOW. YOU WILL RECEIVE AN EMAIL TO VERIFY YOUR APPOINTMENT. ONCE CONFIRMED, WE WILL THEN SEND YOU A CONFIRMATION EMAIL CONTAINING YOUR APPOINTMENT DETAILS AND INSTRUCTIONS.
ONLY APPLICANT WILL BE ADMITTED INTO THE VENUE, EXCEPT FOR SENIORS, PWDS AND MINORS WHO MAY REQUIRE ASSISTANCE. ONLY ONE COMPANION PER APPLICANT MAY BE ALLOWED IN THIS
THERE WILL BE NO PHOTOCOPYING MACHINE AVAILABLE IN THE ALL APPLICANTS MUST PROVIDE PHOTOCOPIES OF ALL REQUIRED DOCUMENTS.
ALL APPLICANTS WILL BE REQUESTED TO EXECUTE A HEALTH DECLARATION FORM. ALL APPLICANTS SHOULD WEAR NON-SURGICAL FACE NO MASK-NO SERVICE.
SERVICES TO BE RENDERED
PASSPORT APPLICATIONS/RENEWALS
REACQUISITION OF PHILIPPINE CITIZENSHIP (RA 9225)

Application form together with all the requirements MUST be submitted to the Philippine Consulate General in Vancouver by express postal mail on or before 18 June 2021 for proper evaluation. Note that applicable fees (in money order/bank draft) must be submitted with your application. Please note that Dual Citizenship applications will not be processed at the venue.
Please refer to the link for application form and requirements: https://www.vancouverpcg.org/forms/

ACKNOWLEDGMENT/NOTARIALS/AUTHENTICATION, REPORTS OF BIRTH/MARRIAGE/DEATH, NBI

Online appointment is required. Visit the link: https://appointment.vancouverpcg.org/outreach/
Applicants must submit a prepaid return envelope (Xpresspost) for the release of their
Xpresspost envelope is not required for NBI applicants.

OVERSEAS VOTING REGISTRATION
SCHEDULE OF FEES
SERVICE
FEE (Effective 16 June 2019)
e-Passport Application/Renewal
C$ 87.00
Acknowledgment/Notarial/Authentication
C$ 36.25
Civil Registry (Report of Birth, Marriage or Death)

Affidavit of Delayed Registration

C$ 36.25

C$ 36.25

NBI Clearance
C$ 36.25
Dual Citizenship (Principal)

(Derivative Dependent)

C$ 72.50

C$ 36.25
The Consulate General has not authorized any person or entity to collect any payments and will ONLY ACCEPT payments on site in CASH, MONEY ORDER or BANK DRAFT payable to the Philippine Consulate General.
 One money order may be used for all application fees of family members applying on the same day and must reflect the correct and exact total fees.
For additional information, please visit the website of the Philippine Consulate General in Vancouver: www.vancouverpcg.org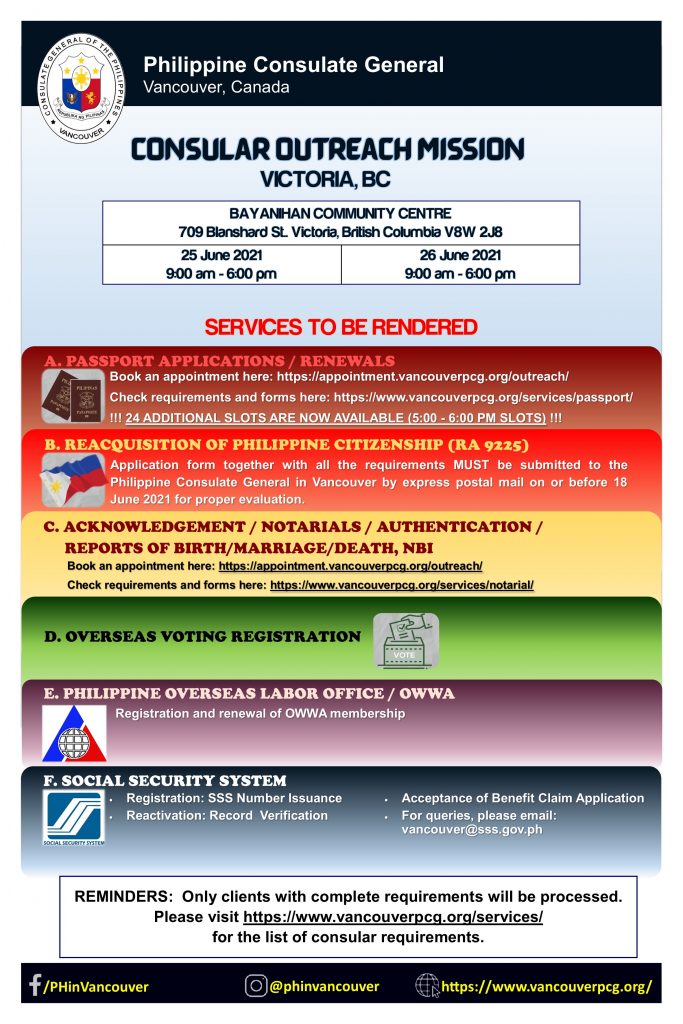 Community Events
No event found.