May 03, 2023
PH Consulate General in Vancouver Joins Ligaya Fair in Burnaby, BC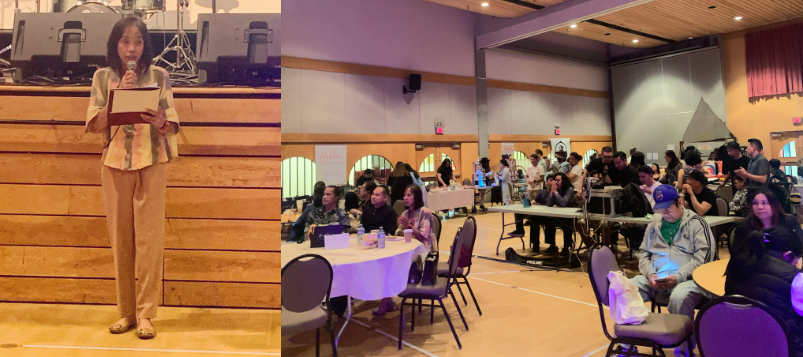 (Left photo) Consul General Arlene T. Magno delivers her remarks before the Filipino Community at the Ligaya Fair in Burnaby, British Columbia.  (Right photo) Filipino community members gather at the Nikkei National Museum & Cultural Centre to celebrate Philippine culture, food and music. (Photos by Vancouver PCG)
BURNABY, 30 April 2023 – Consul General Arlene T. Magno, together with Consul Analyn Ratonel, attended the "Ligaya Fair" held on 30 April 2023 at the Nikkei National Museum & Cultural Centre in Burnaby, BC.
Consul General Magno, in her remarks, thanked the organizers for mainstreaming Philippine culture in British Columbia and beyond.  She also took this opportunity to urge the Filipino community to support the establishment of a Filipino Cultural Center in Metro Vancouver, which would provide a space for the community to come together and celebrate what it means to be a Filipino.
Consul General Magno invited the community to support the Philippine team, represented by Blue Peacock Fireworks, who will compete for the first time at the 2023 Honda Celebration of Light.  She likewise encouraged qualified Filipinos to file their applications for overseas registration for the 2025 National Elections at the Consulate.
Ligaya Fair: Music Arts and Collective, hosted by Tsikenstarr Productions, showcased the diverse talents and creative expression of Filipino artists, musicians, and performers. The event also provided a platform for Filipino Canadian businesses to sell their artworks, crafts, food and services.  Food trucks of Potato Corner and Max's also joined the event. END
(Top photo) Consul General Arlene T. Magno (2nd from right) and Consul Analyn Ratonel (2nd from left) with Oscar Sanchez and Pauline Sanchez at the booth of Dale's during the Ligaya Fair.  (Photo from Vancouver PCG)
Community Events
No event found.
Consular Services Available at
Yellowknife, Northwest Territories - CHATEAU NOVA YELLOWKNIFE 4571 48 Street, Yellowknife, NT X1A 0E2

Status: Booking now

Fort St. John, British Columbia - TBA

Status: pending

Victoria, British Columbia - TBA

Status: pending
▶

View All