FILIPINO SAUCES/DIPS and MIXES

The Philippines has 7,000 islands and each place in the country offers a rich culinary experience noting that what is now enjoyed as Filipino food is a convergence of influences by its colonizers.  Food is a big part of the culture and traditions of Filipinos and their way of cooking is characterized by how Filipinos enjoy their food, by "balancing three predominant elements of taste: sour, salty, and sweet[1]."   Family celebrations will not be complete without serving Filipino favorites, or the popular Filipino dishes, such as pancit (noodles), lechon (roast pig), sisig, adobo (soy sauce and vinegar-marinated meat), lumpia (fried spring rolls), Pinoy-style barbecue, grilled meat and seafood, among others,  which are either cooked or consumed with dips made of basic Filipino sauces, such as soy sauce, vinegar and fish sauce, or a combination of these sauces with other spices, for a more flavorful taste.  Preparing and cooking Filipino dishes have now also been made easier with the availability today of ready-mixed spices, in powder or liquid form.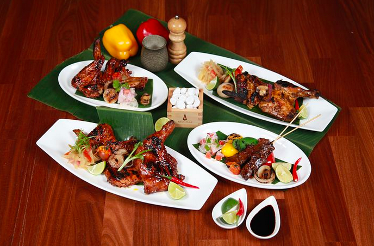 The succeeding sections will provide a description of the basic and ready-mixed Filipino sauces and dips and flavorings, as well as sample recipes, and the names of Filipino-Canadian business which distribute these products in Metro Vancouver and the shops where these are available for sale.
A mainstay of every Filipino kitchen, soy sauce is the main additive in many popular Filipino dishes, including adobo, pancit, and meat and vegetable stews. It enriches the flavor of the cooked dishes and, when combined with vinegar and other spices, it serves as a delicious dip for many Filipino favorites, including roast pork, fried or grilled meat and seafood.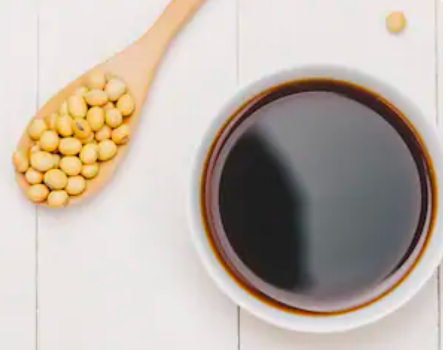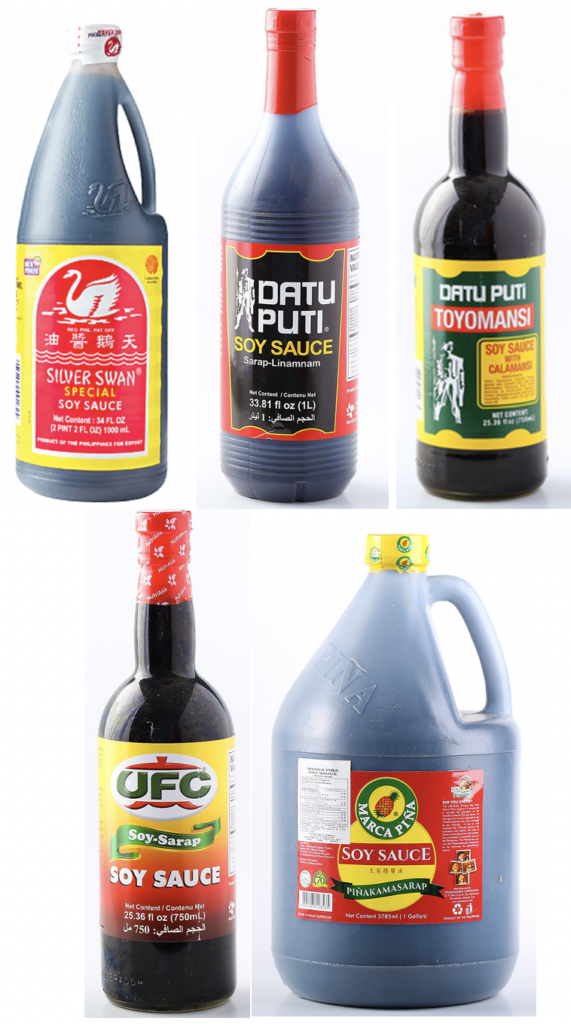 It is primarily made from fermented soybeans, salt, and water.  There are several types of soy sauces available in the market, each containing different ingredients and using different methods of brewing. Here are some options to help you on your next trip to the supermarket.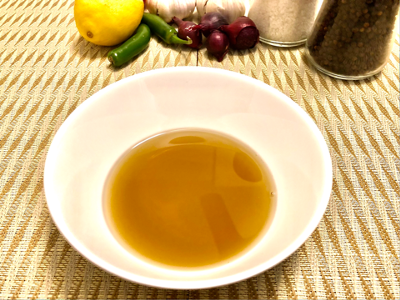 Fish sauce, locally known in the Philippines as patis, is likewise a staple in Filipino households, used to add flavor and taste to Filipino soup dishes, seafood, meat and vegetable stew.  It is also used as a condiment or dip, and sometimes mixed with spices, such as pepper and chilli, and/or vinegar.
Patis is mainly made of fermented fish (anchovy) in salt, water and caramel (for coloring).
Filipinos use vinegar in dishes like paksiw (meat and fish simmered in vinegar) for that tart taste or to balance the saltiness in food like adobo.  Vinegar is also used in combination with soy sauce, red hot pepper and other spices to serve as a dip for grilled and fried meat and fish.
Several types of vinegar are available in the market:
Cane vinegar – the most commonly used vinegar in the Philippines made from sugarcane juice
Palm vinegar – the most labor-intensive to make, out Nipa palm sap
Coconut vinegar – the fermented coconut sap of the coconut tree or fermented coconut water
White vinegar – which is made of acetic acid and other chemicals
The use of vinegar in cooking aids in preserving food, especially in a tropical country like the Philippines, where the warmer temperatures could easily affect the freshness of food.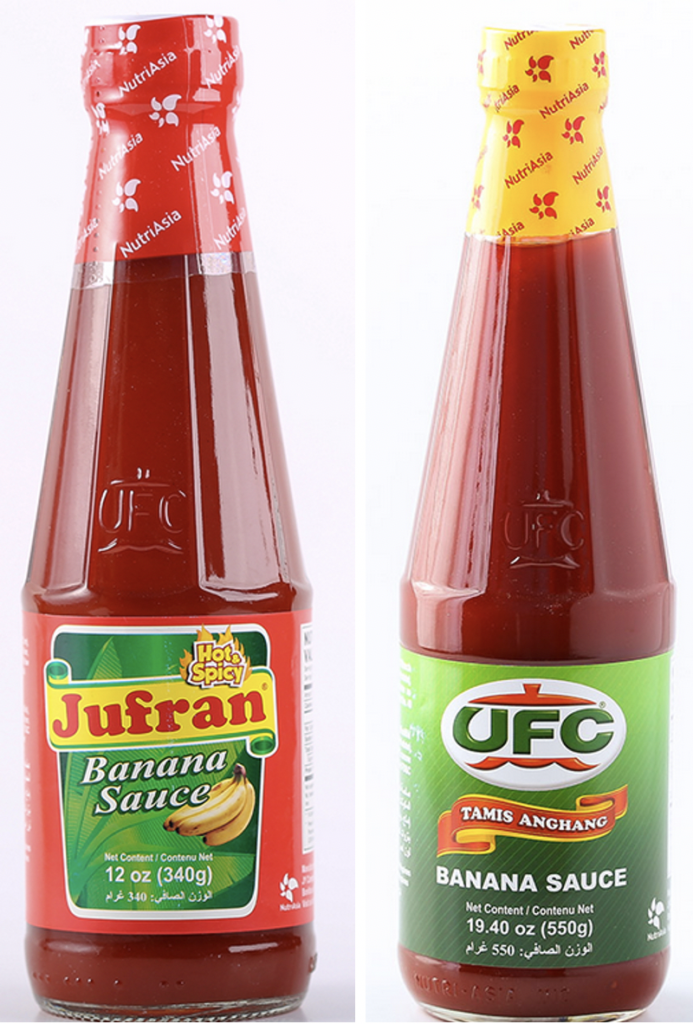 Banana sauce/ketchup is the Philippine version of the tomato ketchup and is enjoyed mostly due to its sweet taste, compared to the more sour tomato ketchup.  The original color of the banana sauce/ketchup was light brown.  However, food coloring was added to give it a similar appeal with tomato ketchup.
Filipinos find comfort eating their favorite Filipino breakfast of either fried meat or fish with silog, short for sinangag at itlog, (which means garlic rice and fried egg) dipped in banana ketchup.  While it is mainly used as a dip, banana ketchup is also used as an ingredient for the Filipino-styled sweet spaghetti sauce and as a marinade for grilled or barbecued meat.
Banana sauce is made of mashed banana, vinegar, sugar, spices and water.
Anchovy Sauce/Shrimp Paste (Bagoong)
Anchovy sauce is fish sauce made from fermented anchovies, in a process that consists of storing the fish and salt in earthenware pots for four to six months. It is colored brown and has a distinct fishy odor. Anchovy sauce is a common sauce for most food-based fish. It is also used as a salt substitute in Caesar salad dressing and other vegetables.
The shrimp paste, on the other hand, consists of fermented baby shrimps which are fermented using similar techniques applied to making the anchovy sauce.
Commonly known as bagoong in the Philippines, this sauce or dip goes well with green mangoes, turnips, guapples, and tomatoes, among others.
It is also used in Filipino vegetable stews such as pinakbet or as an accompaniment for steamed green vegetables. The shrimp paste is the main ingredient for pork binagoongan (pork-ship paste stew) and serves as an additional sauce for ox tail stew or kare-kare.

Lechon (roast port or chicken) sauce
Lechón is a pork dish in several regions of the world, most specifically in Spain and former Spanish colonial possessions throughout the world. Lechón is a Spanish word referring to a roasted baby pig.
In the Philippines, it is a staple dish during gatherings and celebrations and is best enjoyed with a traditional lechon sauce made of liver, vinegar and sugar.  While there are ready-made lechon sauces available in the market, this can also be easily prepared at home.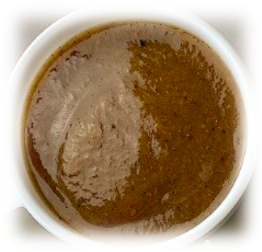 Lechon Sauce Recipe
Ingredients
one 4-ounce can liver pate or spread
1/3 cup vinegar
1 cup water
1/3 cup sugar
1/3 cup bread crumbs
1 teaspoon salt
1/3 teaspoon black pepper
2 tablespoons cooking oil
1 tablespoon minced garlic
2 tablespoons finely chopped onion
Directions
Mix liver pate or spread, vinegar, water, sugar, bread crumbs, salt and pepper. In a small saucepan, heat oil and saute garlic till brown. Add onion and cook until transparent. Add liver mixture. Bring to a boil and simmer till sauce thickens to taste. Serve with roast pork or beef.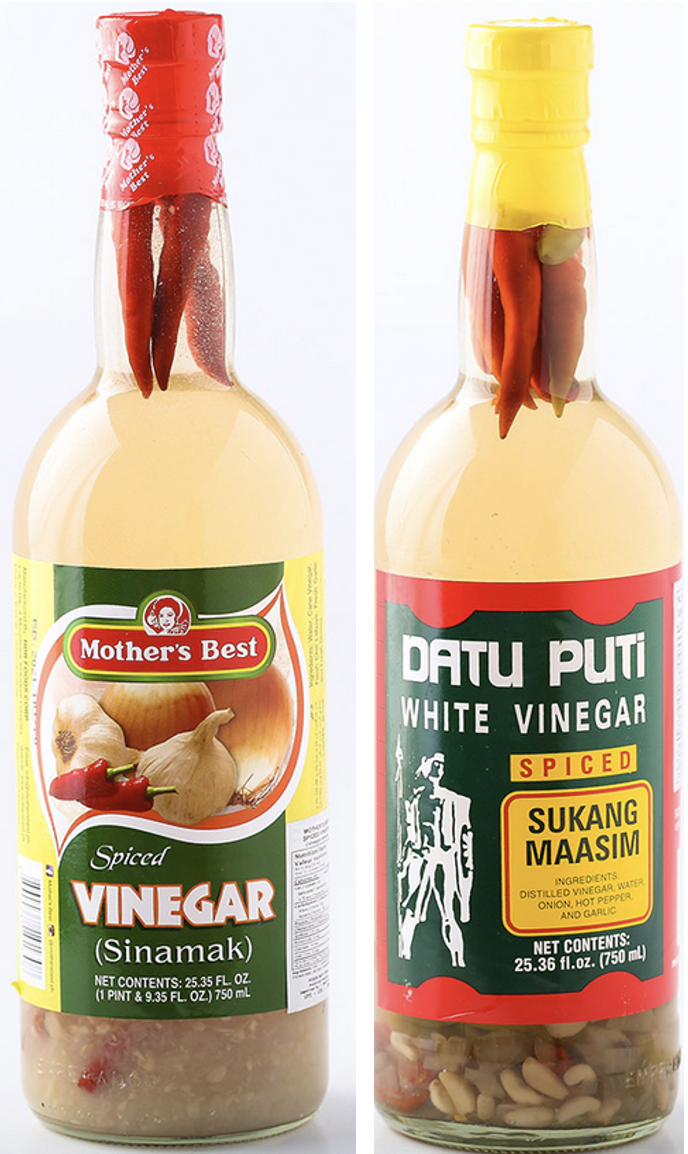 Filipino dishes are made more distinct, savory and enjoyable with a selection of sauces or dips designed to enhance or complement the dishes' flavors.  The original taste of the sauces or dips can also be merged or combined with other sauces and spices to achieve a varied and more delectable taste.
An example of these are the spiced vinegar (vinegar with chopped onions, garlic, pepper, red chili), toyo-mansi (combination of soy sauce and kalamansi or  lime) or simple combinations of soy sauce and vinegar, or fish sauce and lime.  These are likewise commercially available in the market.
Below are sample recipes of sauces, which can be easily prepared at home.  A sample recipe of a Filipino favorite dish, adobo, is also included below.
Lumpia Sauce
Ingredients
3 cloves garlic — minced
1/8 teaspoon salt
1/4 cup vinegar
1/8 teaspoon pepper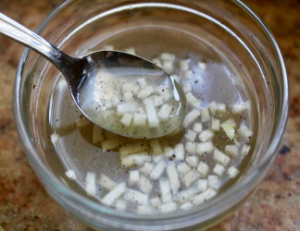 Directions:  Combine all ingredients; serve with hot lumpia. Makes about 1/4 cup.
Sweet and Sour Sauce
Ingredients
2-1/2 tablespoons kalamansi juice
1/2 teaspoons salt
3 tablespoons sugar
4 teaspoons flour blended with 1 cup water
1-1/2 tablespoons soy sauce
*Red hot pepper may be added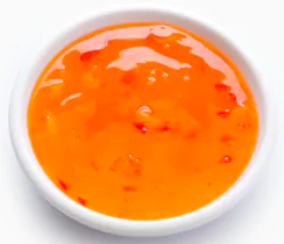 Directions:     Combine kalamansi juice, sugar and soy sauce.  Bring to a boil.   Add flour blended with water and stir until mixture thickens.  Cook over low fire for 1 minute.
Vinaigrette Dip (Sausawang Suka)
Ingredients
1/4 cup soy sauce
1/3 cup vinegar
3 cloves garlic, crushed
salt and pepper to taste
dash of red hot pepper (optional)
Directions: Mix all ingredients together. Serve with fried or roast meat and fish dishes.
Home-made Banana Ketchup
Ingredients
1 tablespoon chopped garlic
1 tablespoon chopped shallot
1 tablespoon chopped ginger
2 ounces tomato paste
4 bananas (Saba if possible)
2 ounces white vinegar
2 ounces water
4 ounces brown sugar
salt and pepper to taste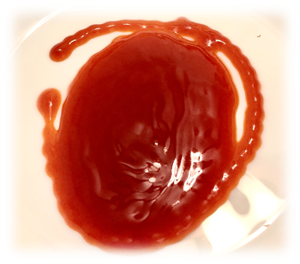 Directions: Sweat garlic, shallot and ginger for 5 minutes.  Add tomato paste and cook for another minute.  Deglaze with vinegar and water.  Add brown sugar and bananas; cook for 10 minutes. Puree mixture until smooth, and adjust seasoning with salt and pepper.
Pork Adobo
Ingredients
1 ½pork belly cubed
1 ½teaspoonswhole peppercorn
5 to 6piecesdried bay leaves
6 to 8clovesgarliccrushed
5tablespoonssoy sauce
3tablespoonscoconut vinegar
1 ½cupwater or beef broth
3tablespoonscooking oil
Salt to taste optional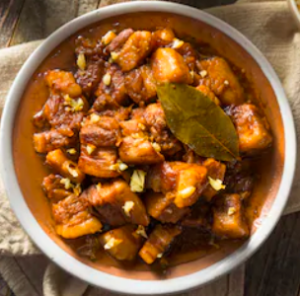 Instructions
Heat the oil in a cooking pot.
Add the garlic. Cook until it starts to turn light brown.
Add the peppercorns and bay leaves. Continue to cook for 20 seconds so that its flavors get infused in the oil.
Put the pork belly in the cooking pot. Stir and cook until it turns light brown. Note: check the garlic and make sure that it does not get burnt. Adjust heat if necessary.
Pour the soy sauce and beef broth (or water). Let boil. Cover and cook in low heat for 40 minutes or until the pork gets tender. Add more beef broth or water if the liquid starts to dry quickly.
Pour-in the vinegar. Let the liquid re-boil. Stir and cook for 8 minutes.
Taste your pork adobo and decide to add salt if needed.
Transfer to a serving plate. Serve.
Share and enjoy
Cooking some authentic Filipino dishes is now easier with the availability of food mixes in powder form, which are available in most Asian supermarket and Filipino stores in Vancouver.  These food mixes help you save time in preparing your favorite Filipino food, from the all-time favorite adobo to palabok (a noodle dish topped with shrimp, pork, garlic, smoked fish flakes, chicharron, etc.).   For those who are starting to learn how to cook, the sachets of these mixes contain sample recipes, which serve as a guide in using them.
Below are some of  Mama Sita's brand mixes and marinades available in Filipino stores in Vancouver such as Pinoy Dragon Mart,  Seasons Mart, Khay Market and  Tatak Pinoy on Joyce St.;  Fiesta Filipino in North Vancouver; and Oriental stores like Victoria 88 Supermarket and T&T Supermarket, Lady Marc in Surrey, Dollar Store in Richmond, Walmart and Real Canadian Superstores.  Also included below are sample cooking demonstrations of Filipino dishes using Mama Sita's mixes.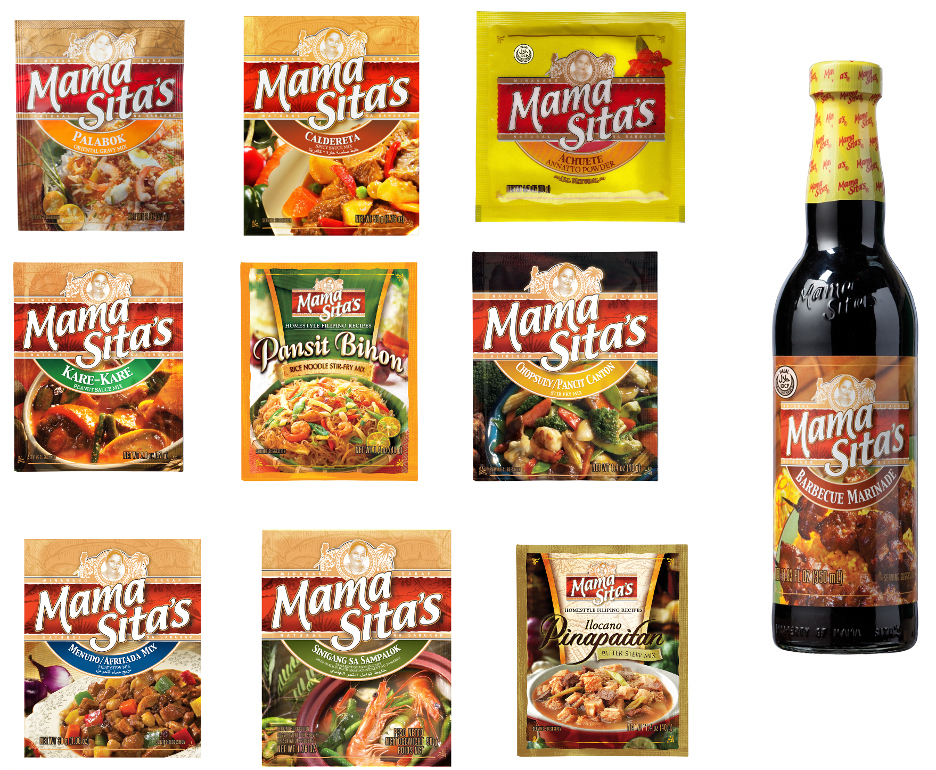 Sources:
O/B Marigold Marketing Services, Inc. / Mama Sita's Mixes & Sauces / Filipino Canadian Marketing Group, Inc.
Photo sources:  Corinthian Distributors, Ltd. (bottled sauces), and O/B Marigold Marketing Services, Inc. / Filipino Canadian Marketing Group, Inc. (Mama Sita's Mixes & Sauces), unless otherwise stated.