Various Uses
From tea bags to car parts, the Abaca fiber proves to be a strong material.
It is found to be seven (7) times more effective as a material for making reusable face masks compared to regular fabric materials in preventing the Covid-19 virus.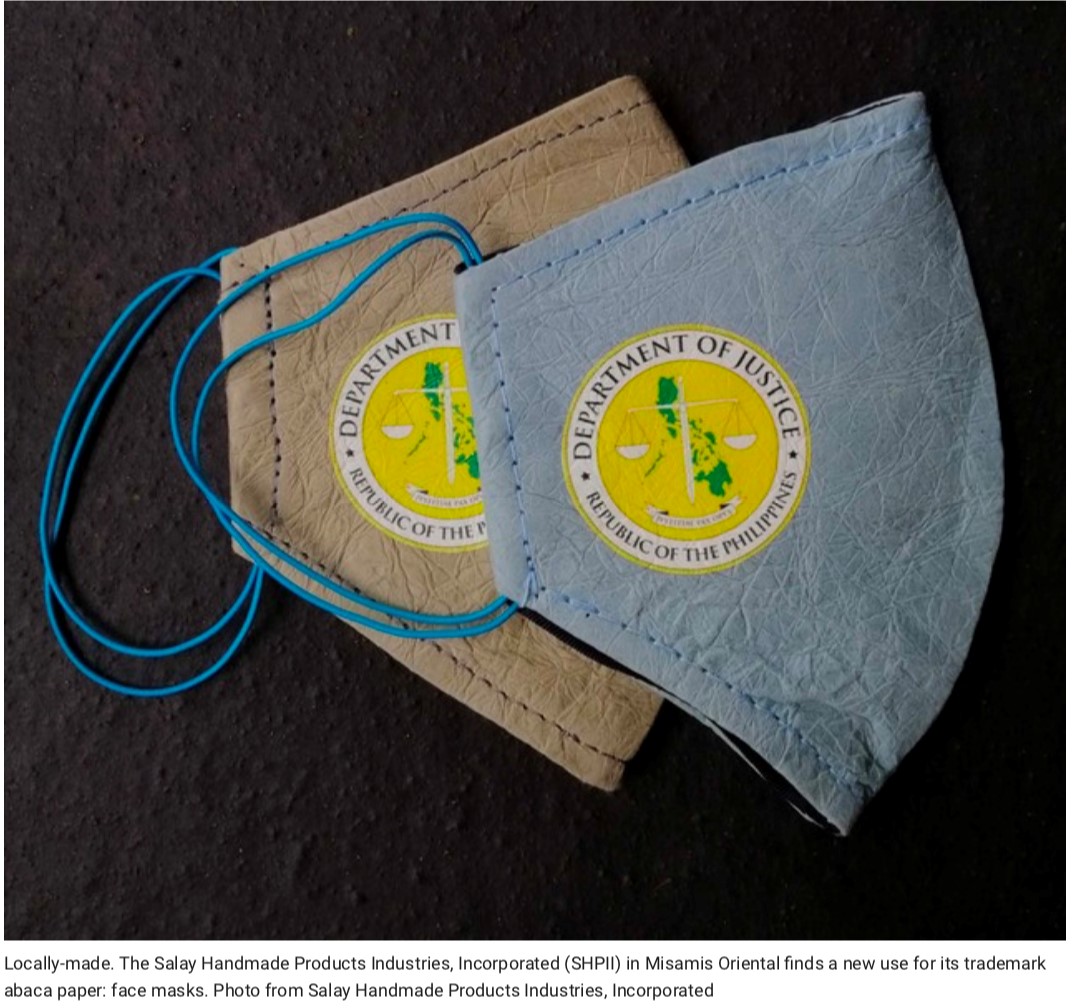 Due to its proven strength, a face mask made of Philippine Abaca, developed by Salay Handmade Products Industries, Inc., in Misamis Oriental in Mindanao2, has been tested and approved by the Philippine Department of Science and Technology (DOST).
The DOST's filtration and protection test results revealed that the abaca face mask is 7 times better than ordinary cloth face masks.
This new face mask provides more options for the Filipino public who are required to wear face masks when they leave their homes while the country fights the spread of coronavirus disease, and uses an environment-friendly material.  The Photo shows the colors of 7XB face mask from Salay Handmade in Misamis Oriental.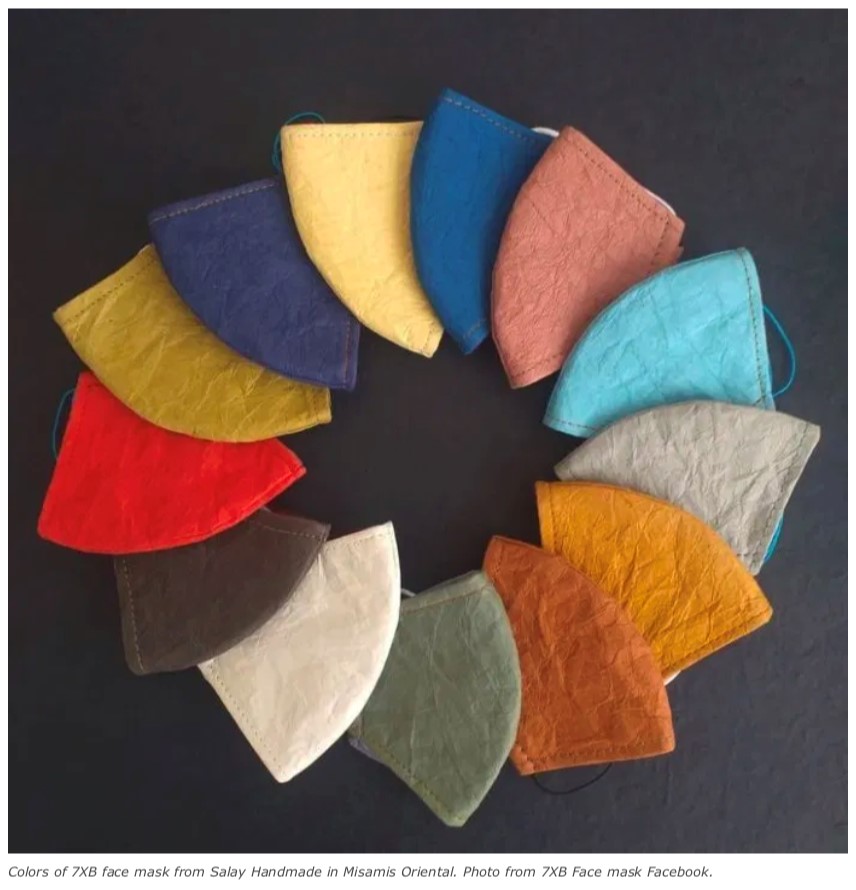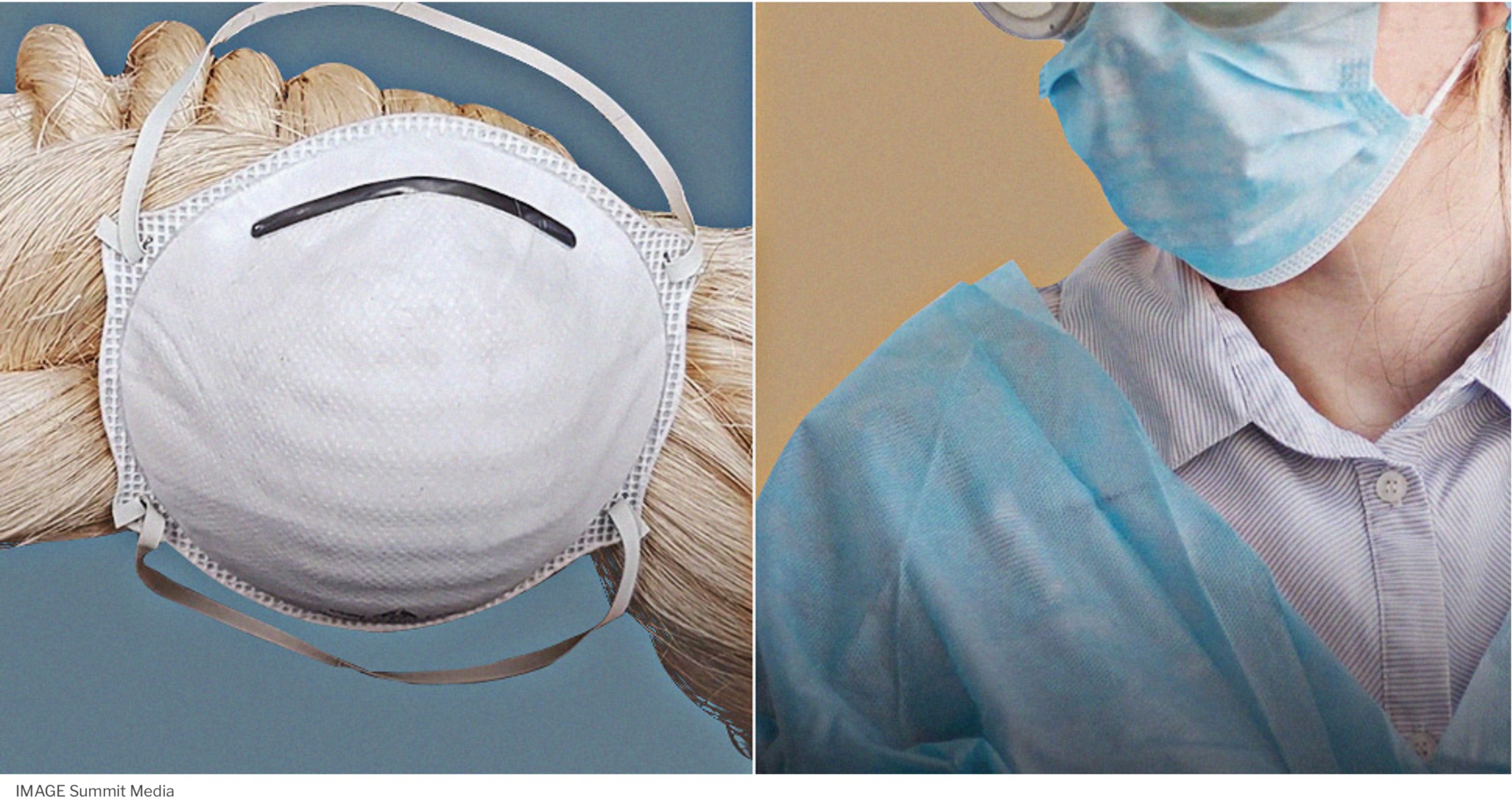 Commercially-made masks like N95 and surgical masks are  made from abaca.
Philippine Abaca has also been used as raw material for Personal Protective Equipment such as lab gowns.
Specialty/novelty paper
The Philippine abaca has more quality grades, compared to those produced by other countries, which allows specialty papermakers flexibility to produce different types of paper and other by-products with the desired quality.
                    Strengthening/adhesive materials
Tea bags and sausage casings
For cordage application where high tensile strength is of prime consideration, abaca is also an excellent choice over other natural fibers because it is considered the strongest among the plant fibers. Abaca has the best reputation for strength and tenacity and is technically three times stronger than cotton and two times stronger than sisal. Also, Abaca is far more resistant to salt water decomposition than most of the vegetable fibers, making it the most suitable for rope and cordage manufacture.
The Abaca fiber is used as textile in making Filipiniana dresses, including the barong tagalog, the formal men's wear of Filipinos.
Republic Act No. 9242, otherwise known as "An Act Prescribing the Use of the Philippine Tropical Fabrics for Uniform of Public Officials and Employees and for Other Purposes," was enacted to strengthen the local demand for natural fibers, including Abaca.
As Electronic and Automotive Components
Electrolytic condenser papers, car panels, spare tire casing
For Fibercrafts and Furnitures
Chairs, lamp shades, sofa, sun shade, table runner, swing chair
Wellness products, tissue paper, fertilizer