Meet Joy Allen, KFC Franchise Owner
She has a contagious smile and an unwavering outlook in life.  A source of pride among Filipinos in Yukon, this Filipino franchisee and manager of a well-known restaurant, Kentucky Fried Chicken (KFC),  in Whitehorse, Yukon, shares her story about how she ended up managing a risky, but very rewarding and profitable business, which just turned 9 years old.
Prior to coming to Yukon, Joy worked in Singapore.  She arrived in Yukon in September 1988 and initially worked as a nanny to three kids, whom she fondly recalled as "beautiful" and "full of energy."   Later, she worked in a pizza shop in Watson Lake where she was  a server, cook and cleaner.  After working at the pizza shop, she worked  as a receptionist in the clinic of Peter Michael Ward Allen, a denturist whom she married later, while also working part-time in a hotel in Whitehorse as a receptionist.  She later opened their own shop which included a Filipino sari-sari (grocery) store.
It seems like Joy had grabbed every opportunity that came her way.  But these jobs had also taught her the value of hard work, perseverance and the importance of family.  For Joy,  though, her journey was made possible not only through her own efforts but also with the support of her husband, as well as relatives.
Jumping into the franchising business was never in her plans.  According to Joy, the decision was a difficult and very challenging one, especially considering her lack of knowledge in managing a restaurant. "It was like passing through the hole of a needle and seemed impossible at the start", says Joy.  It was family support, apart from her patience, confidence and willingness to learn, and, of course, her abiding faith in God, that enabled her to hurdle this difficult start.  Joy proudly recalled that through the persistence of her husband, they were able to get the KFC franchise.   Learn more from Joy about her beginnings in Yukon and her journey to franchising in the video clip below.
Before obtaining the franchise, KFC had been absent in Whitehorse for three (3) years.  The idea of a franchise all started when they saw a property which had been up for sale in a very good location in downtown Whitehorse.  Joy initially discussed the idea with her husband, who patiently worked on getting the property.  Assisted by her cousin, Joy applied for the KFC franchise in January 2012.  It was almost impossible to get the franchise then due to the numerous requirements, Joy recalled.  Then, they had to  undergo rigorous training before finally opening the KFC branch in Whitehorse in July of that year.  Joy proudly remembers that, soon after,  they had been recognized by their head office for recording the highest sales in a single day throughout Canada.  Ultimately, Joy had hoped that with the opening of the restaurant, she would be able to help employ as many people as she could and contribute to improving the economic condition of the community.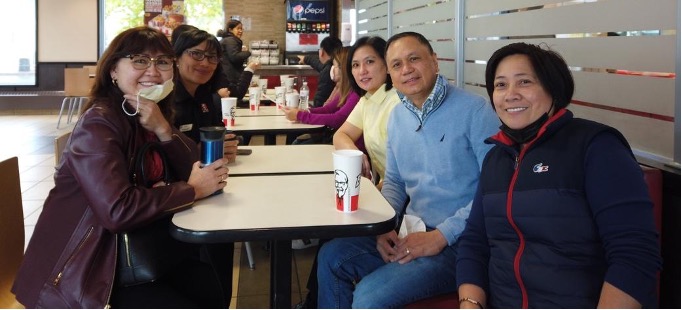 Joy as a Leader and as a Manager
As a manager, Joy puts a premium on human capital.  She said that to be successful in a business, you have to have the right people in place who know their stuff, while also acknowledging the importance of recognizing and rewarding them for their accomplishments.  She feels she benefited from the wide range of work experience she gained upon arriving in Canada because she learned how to treat her co-workers.  Moreover, as the franchise owner and manager, she said that it is important to be a good leader with a heart, and to be that required one to be a good follower and good example, as well.
Helping Kababayans (fellow Filipinos)
During the early months, she hired Filipino workers from within Canada.  After a year, she started hiring from the Philippines, including her close relatives.  She happily notes that, today, 98% of her staff are Filipinos.  At one point, she claims, all of her staff had been Filipinos.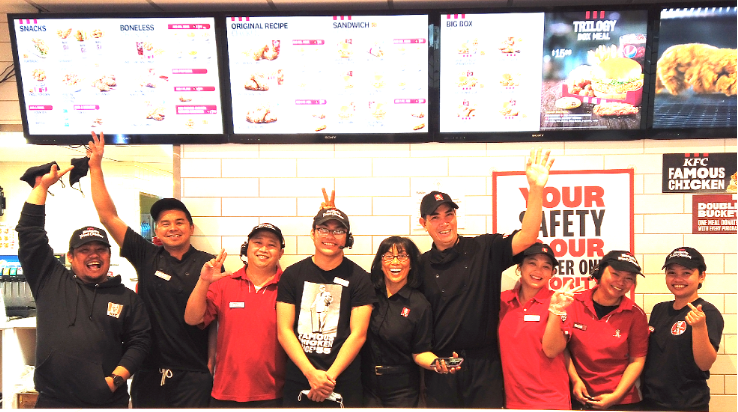 Franchising in the Eye of a Franchisee
Joy opines that franchising is "methodical," saying that the operations of her business are guided by rules and procedures that are set by the company.  As a franchisee, she likewise learned the importance of focus and "extreme ownership", adding that one should own it.  Hear what else she has to say in the next video about franchising and the advice that Joy has for those who would like to get into franchising.
Despite her busy schedule, Joy still finds time to relax and do what she enjoys doing, such as gardening, making bouquets of flowers for friends on special occasions and hiking.
Joy and her husband, Peter, own a commercial building in Whitehorse.  They had plans of demolishing it and building a new,  beautifully-designed commercial space.  However, due to the recent demise of her husband, this plan has been put on hold for now as Joy copes with her tragic loss.  Peter, after all, had always been her pillar and partner in everything she did.  According to Joy, she would think about it again once she is ready, considering the significant resources this huge project would require.  For now, she is fully focused and content to devote her time and energy to her KFC franchise.
Joy's franchise is located at:  2230 2nd Avenue, Whitehorse, Yukon.