December 25, 2020
PHILIPPINE CONSULATE GENERAL IN VANCOUVER HOLDS MALIGAYANG PASKO, VANCOUVER 2020! VIRTUAL CHRISTMAS MARKET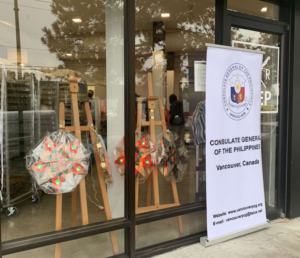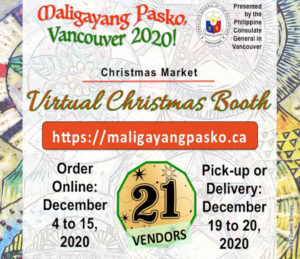 Launched on 04 December 2020, the Philippine Consulate General in Vancouver held its first online Christmas market, the "Maligayang Pasko, Vancouver 2020! Virtual Christmas Booth" to provide the Filipino-Canadian community in Metro Vancouver a venue to safely shop for their favorite Christmas delicacies and gift items, while at the same time supporting Filipino-Canadian businesses in Vancouver.
Participating vendors included Bukobaba, Ensaimada Moment, Goldilocks, Hapag Ihaw-Ihaw Filipino Grill, Kapé, Kasama Chocolate, Kaye Bakes, Kiligraphy, Kusina Food Market, La Glace, Loobi Canada Inc, MapleSun, Pampanga's Cuisine, Plato Filipino, Techie's Heavenly Treats, the Khaykery, Unit 215, and Win Win Chick-N; and, three non-food business partners, LBC Express, Philippine Airlines and Tourmasters Travel.
Photo above shows the parols displayed in front of the YVR Prep, the industrial kitchen that served as the order pick-up venue, as well as the event's social media teaser.  Consulate personnel are shown below sorting and packing ordered products in specially designed Maligayang Pasko, Vancouver ecobags on 19-20 December 2020.END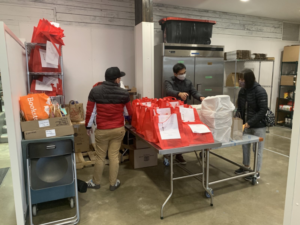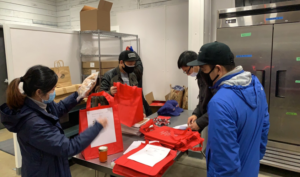 Community Events
No event found.
Consular Services Available at
Yellowknife, Northwest Territories - CHATEAU NOVA YELLOWKNIFE 4571 48 Street, Yellowknife, NT X1A 0E2

Status: Booking now

Fort St. John, British Columbia - TBA

Status: pending

Victoria, British Columbia - TBA

Status: pending
▶

View All