July 20, 2023
PCG in Vancouver and CHED witness Signing of Educational Cooperation Agreements
PHILIPPINE CONSULATE GENERAL IN VANCOUVER AND COMMISSION ON HIGHER EDUCATION WITNESS SIGNING OF EDUCATIONAL COOPERATION AGREEMENTS BETWEEN PHILIPPINE HIGHER EDUCATION INSTITUTIONS AND CANADIAN SCHOOLS DURING THE BC INTERNATIONAL EDUCATION WEEK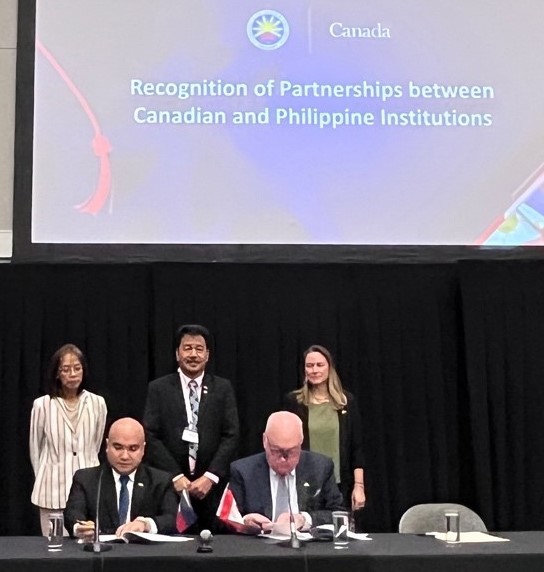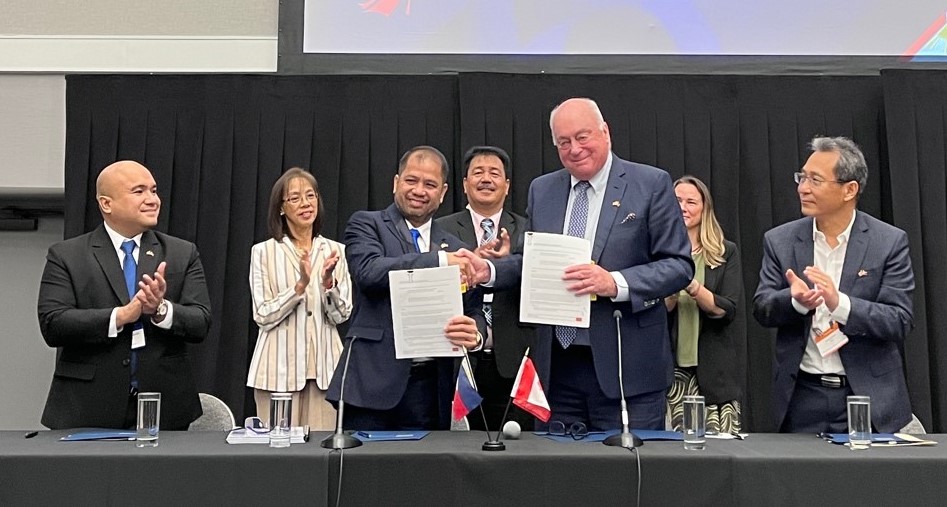 PHOTOS: Left – Consul General Arlene T. Magno (standing, leftmost) and Commission on Higher Education Chair Julian Prospero De Vera (standing, center) witness the signing of the twinning program on Aircraft Maintenance Technology and Aviation Electronics Technology between the Philippine State College of Aeronautics (PHILSCA), the World Citi Colleges, represented by its President, Mr. Raymond Patrick Guico (seated left) and the British Columbia Institute of Technology  (BCIT), represented by its Interim President, Mr. Paul McCullough (seated, right); Right – Dr. Marwin Dela Cruz, PHILSCA President and Mr. Paul McCullough shake hands after signing the agreement.
PHOTOS: Dr. Trixie Sison (2nd from left), Dean of the College of Education of Miriam College, and  Dr. Christian Bernard (2nd from right), Director of Camosun International happily show off the signed Memorandum of Agreement on Transnational Higher Education Partnership
PHOTOS:  Left – Dr. Jose Camacho, Jr. (seated, 2nd from left) Chancellor of the University of the Philippines-Los Baños, signs the Memorandum of Understanding on Course Development Related to Environment, Climate and Forestry with Ms. Tammy Towill, Chair of the School of Business at Capilano University;  Right – Chancellor Camacho and Ms. Tasha Welch, Director for Global Recruitment and Partnerships at the Royal Roads University, present the Letters of Intent on Academic Research Cooperation in Climate Action Leadership Training and Micro-credentials between their universities.
27 June 2023 – Consul General Arlene T. Magno and Commission on Higher Education Chairman Julian Prospero De Vera both witnessed the signing of several educational agreements on the occasion of the Philippines' participation in the British Columbia International Education Week held at the Victoria Conference Centre in Victoria on 25-29 June 2023.  The Philippines currently has 137 signed agreements between Philippine higher education institutions and their foreign institutional counterparts and 11 agreements signed by CHED with Canada, and is actively encouraging more educational linkages as part of government efforts to continuously upgrade the quality of education available to Filipinos. END
Community Events
No event found.
Consular Services Available at
Fort St. John, British Columbia - Northern Grand Hotel 9830 – 100th Avenue, Fort St. John BC V1J 1Y5

Status: Booking now

Victoria, British Columbia - TBA

Status: pending
▶

View All