April 26, 2023
PH Consulate General in Vancouver Visits Filipino Restaurants in Richmond, BC
(Left photo) Standing: Mrs. Mercy Lee, owner of Little Ongpin, poses with (L-R) Post's personnel Millecent Verceles, Consul Ericka Anna Abad, Carol Halili-Castañeda, and Lyra Ocampo. (Right photo) Little Ongpin's prix fixe menu for the FRMC 2023 features daing na bangus and lumpiang shanghai.
24 April 2023 - To support the 2023 Filipino Restaurant Month in Canada (FRMC), Consul Ericka Anna Abad, together with three colleagues, visited Little Ongpin Restaurant and met with owner Mercy Lee on 21 April 2023.
On Sunday, 23 April 2023, Consulate personnel were off to Kumare Restaurant and Bakery in Richmond to sample its FRMC offerings for lunch.
This is the last week of Filipino Restaurant Month in Canada so diners can still visit any of the nine participating restaurants in British Columbia for a chance to win local and national prizes. END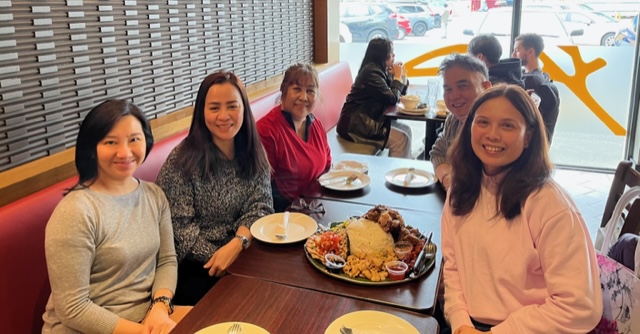 (L-R:) Post's personnel Christina Aquino, Mary Ann Macaranas-Jurado, Erlinda Yamat, Romeo Yamat and Lyra Ocampo at Kumare's Restaurant in Richmond.
Community Events
No event found.