September 03, 2021
MANILA COMES TO TOWN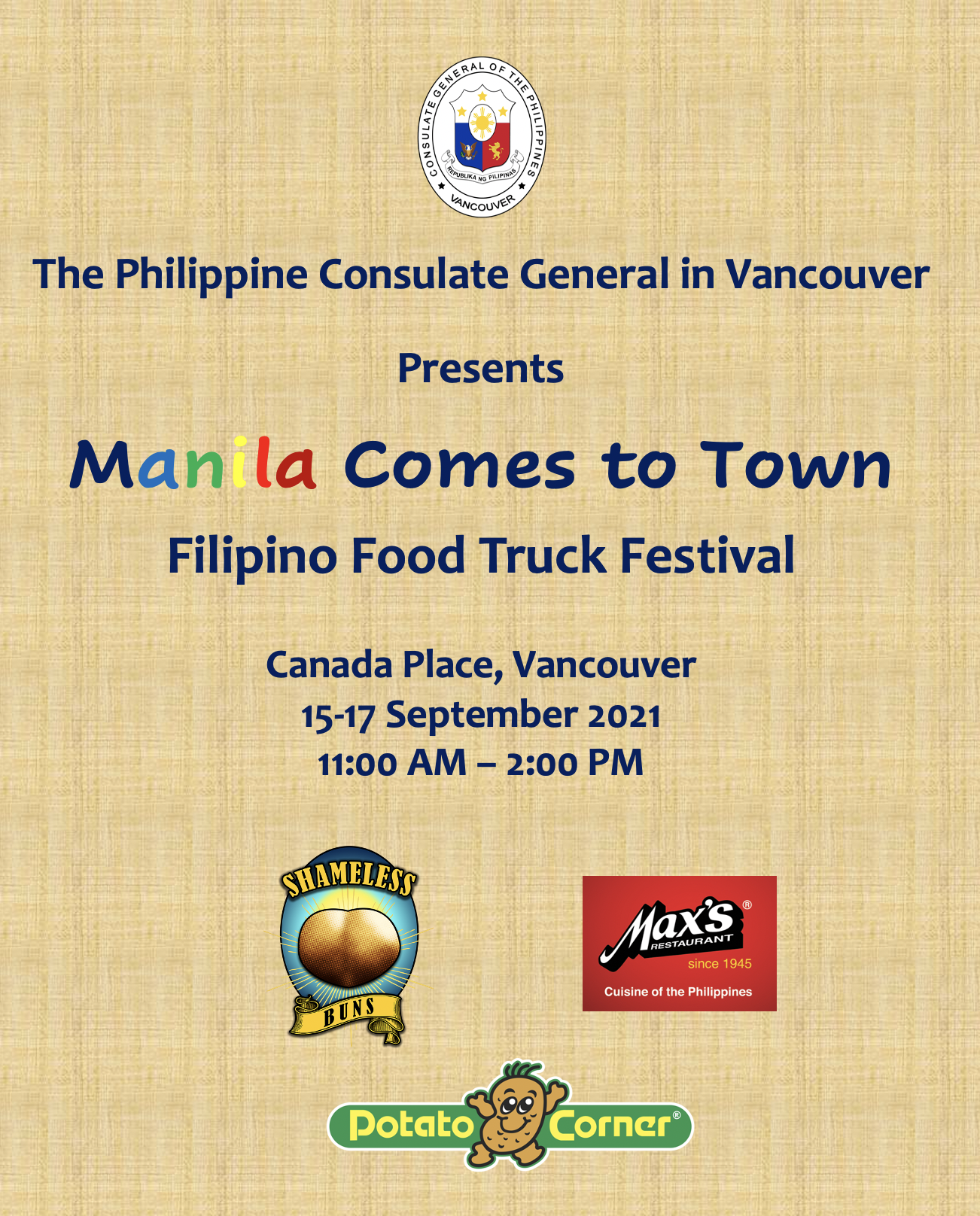 The Philippine Consulate General in Vancouver is pleased to announce the return of Filipino food trucks to Canada Place in downtown Vancouver this year.  Dubbed, "Manila Comes to Town", the Filipino food truck festival will be held on the southside of the 900 block, Canada Place, from 15 to 17 September 2021, during the lunch hours of 11:00 a.m. to 2:30 p.m.
Once again, we will be joined by Max's Restaurant and Shameless Buns.  Max's Restaurant, famously known in the Philippines as "the house that fried chicken built", has been serving customers for over 75 years with its tender, juicy and crispy chicken that can only be described as "delicious to the bones". The Max's Restaurant on Kingsway in Burnaby is one of several stores located in North America.
Shameless Buns is a Vancouver-based food truck that offers Philippine flavors in exciting, non-traditional creations.  Their sandwich buns and poutine version of the fries will make you want to return for more.  It recently opened its first physical store on Fraser Street, Vancouver.
This year, we will also introduce another iconic Philippine brand, Potato Corner, featuring the Philippines' homegrown, deliciously-flavored fries. Since Potato Corner first opened in 1992, its food carts and in-line stores have sprouted in every corner of the Philippines, and now abroad, as well.  In B.C., you can find Potato Corner on Kingsway, Burnaby and in Central City, Surrey.
Before we say goodbye to summer, we invite you to visit us in Canada Place and try out the array of Filipino food available during the three-day food truck festival.  Come alone, or better still, come with family, friends and colleagues.
See you there!
Community Events
No event found.
Consular Services Available at
Yellowknife, Northwest Territories - CHATEAU NOVA YELLOWKNIFE 4571 48 Street, Yellowknife, NT X1A 0E2

Status: Booking now

Fort St. John, British Columbia - TBA

Status: pending

Victoria, British Columbia - TBA

Status: pending
▶

View All