November 22, 2021
"MALIGAYANG PASKO, VANCOUVER!" RETURNS THIS YEAR, WITH ST. PATRICK'S RECREATION CENTER AS VENUE
"Maligayang Pasko, Vancouver!" is back and will be held in-person this year, at the St. Patrick's Recreation Center in Vancouver.  It will be a whole day event, starting at 9 a.m. and ending at 4:00 p.m., featuring the Christmas market, Christmas carols and Christmas parols (stars), plus many new and exciting segments.
This year, the Maligayang Pasko market brings together 33 business vendors, 20 food and 13 non-food establishments, under one roof, providing visitors a one-stop shop opportunity to purchase both traditional Christmas fare and gift items for family and friends.  Visitors will also be delighted to find food truck stations located outside the Recreation Center.
The pair of Jono Hilario, Viva recording artist, and Jonathan Tamondong, saxophonist, and Vancouver's jazz duo Ed and Salve Dayao, return on stage to bring Christmas cheers and music to Maligayang Pasko shoppers.  Other performers this year will be Ms. Kylie Fonacier, composer, lyricist, conductor, singer and pianist; Flavo (the Holy Cross Band), a jazz combo of six high school students; the UPAABC Choir and Friends, Apothic and Music, all alumni of the University of the Philippines who have settled in Vancouver.
"Maligayang Pasko" offers something for all ages, as young visitors get the chance to join the popular Parol-Making activity and Pinoy Story Time for the kids.  Vancouver-based visual artists Bert Monterona and Mylene Paredes will be giving out a total of 125 parol kits and conducting parol-making lessons every hour beginning at 11 a.m., while Ms. Erie Maestro of Tulayan-Bridging the Filipino Diaspora will lead the Pinoy Story Time at 1 p.m.
One addition to this year's Maligayang Pasko, is the Pabitin, a traditional Filipino party game for children where they try to pick items (usually candies and toys) hung from a contraption made of bamboo sticks hung high above their heads and lowered briefly and quickly to allow participants to jump and grab an item before the contraption is raised again.  There will be two sets of the Pabitin, one in the morning for kids aged 3 to 7 years old, and the other in the afternoon for kids 8 to 11.
Families and friends will once again enjoy creating their Christmas memories at the photo booth stationed inside the Recreation Center.  This year's photo booth services will be provided by EM Sager Photography.
Visitors to the "Maligayang Pasko, Vancouver!" are invited to take part in a toy donation drive for beneficiaries from the BC Children's Hospital, by bringing a new, unused, and unopened toy for boys or girls on the day of the event.  A box for the toys will be set up under the Christmas tree on stage.  The toy drive is being undertaken in partnership with the Table Tutors DJ Academy.
Finally, the Philippine Consulate General will be sponsoring a Filipino community mass at the St. Patrick's Church at 4:30 p.m.  Everyone is welcome to attend.
Mark your calendars and watch out for more information in the coming weeks.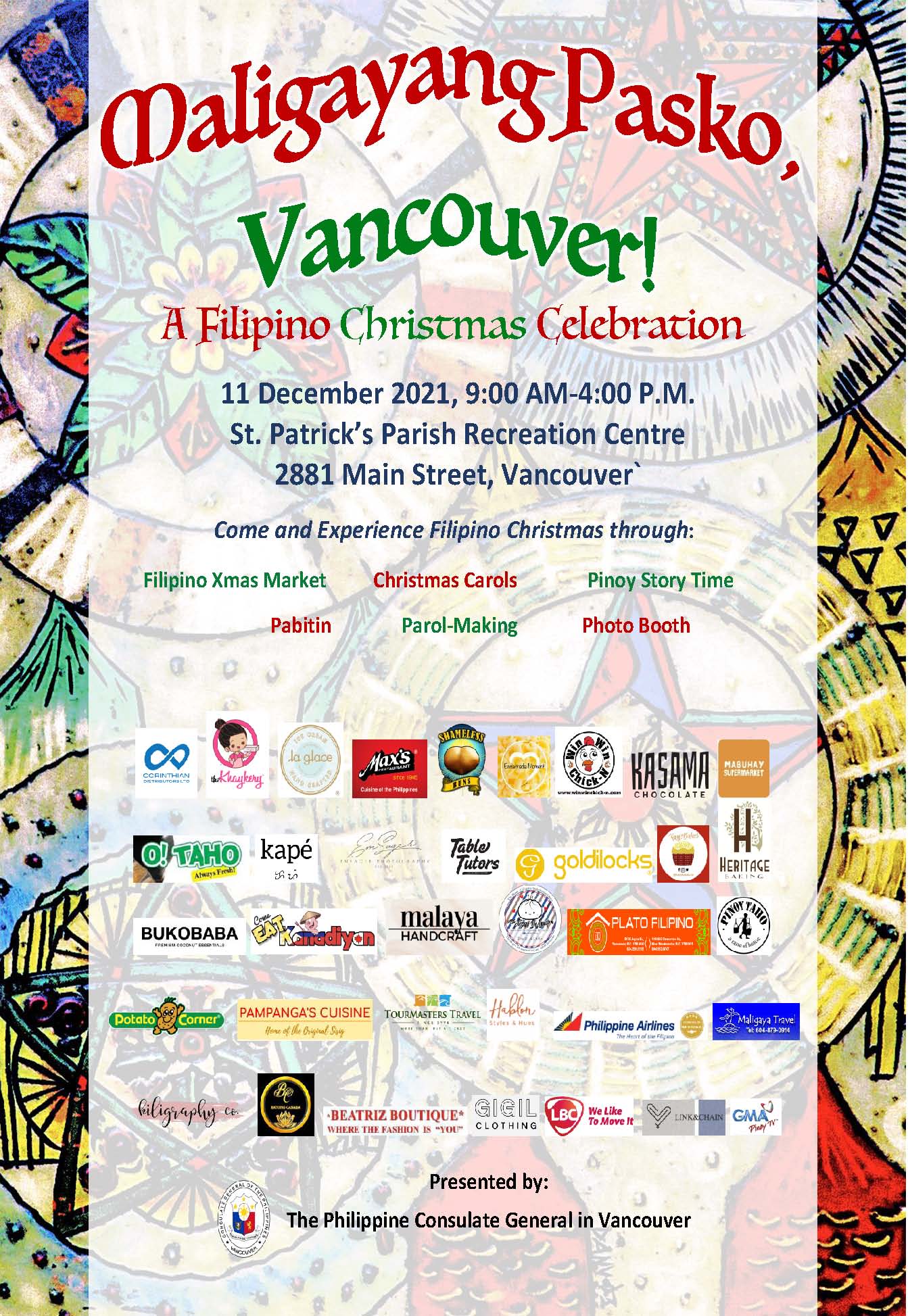 Community Events
No event found.