June 09, 2023
PH Ambassador Austria and BC Minister of Post-Secondary Education Selina Robinson discuss ways to strengthen bilateral cooperation in Education and Skills Training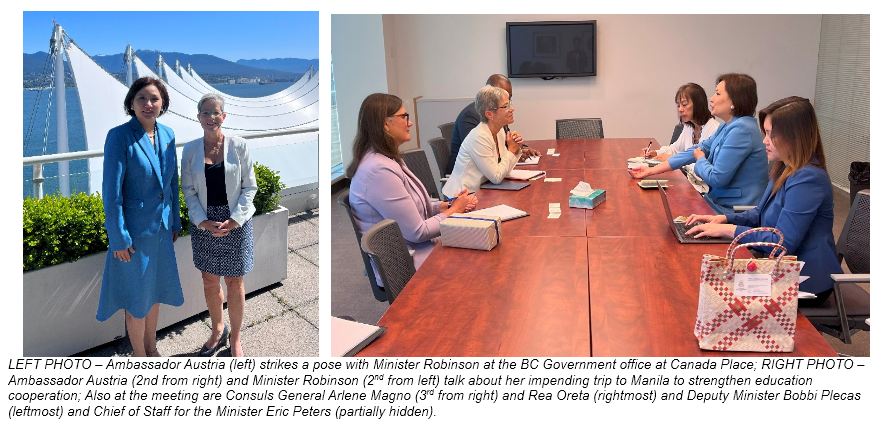 06 June 2023 – On the occasion of her first official visit in Vancouver as Philippine Ambassador to Canada, Amb. Maria Andrelita S. Austria met with Hon. Selina Robinson, BC Minister of Post -Secondary Education and Future Skills to talk about the latter's upcoming visit to Manila.
Minister Robinson said that she was looking forward to her trip, which sought to gain a better appreciation for the Philippine post-secondary education system, citing particular great potential for training partnership in the field of healthcare.  Ambassador Austria thanked the Minister for her interest to strengthen bilateral cooperation in education and looked forward to a fruitful visit.  She pointed to the fast-growing population of Filipino international students in Canada, a quarter of whom are in British Columbia, as well as the continuing issue of credentials recognition preventing Filipino nurses from fully contributing to Canada's healthcare plight. Both noted the similarities in family values, respect for indigenous culture and strong work ethics that unite Filipinos and Canadians.
Minister Robinson said that she was pleased to be able to witness the signing of an agreement between the Camosun College in Victoria and the Miriam College in Manila, which was indicative of the mutual interest of Philippine and BC educational institutions to forge partnerships.  Ambassador Austria shared that the British Columbia Institute of Technology and the Philippine State College of Aeronautics will also be signing an agreement on aircraft technology at the sidelines of the forthcoming BC International Education Week at the end of the month.
The Ambassador ended the meeting with a request for the Minister to support the establishment of a Filipino cultural center in Vancouver.END
Community Events
No event found.
Consular Services Available at
Fort St. John, British Columbia - Northern Grand Hotel 9830 – 100th Avenue, Fort St. John BC V1J 1Y5

Status: Booking now

Victoria, British Columbia - TBA

Status: pending
▶

View All